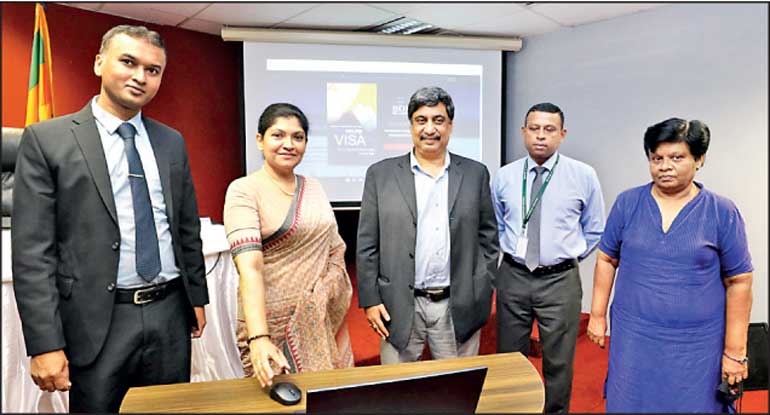 BOI Director-General Renuka Weerakone (second from left) launches the integrated visa recommendation system yesterday. Others from left: Department of Immigration and Emigration Deputy Controller Visa K.W. Elapatha, Free Trade Zone Manufacturers' Association Chairman Jatinder Biala, Defence Ministry Lt. Col. Asanka Karunarathna, Joint Apparel Association Forum Sri Lanka Asst. Secretary-General Niranjali Weerasekera – Pic by Lasantha Kumara
---
Collective initiative of Immigration and Emigration Dept., Defence Ministry
Offers online visa recommendations under key 3-categories: entry, residence and extension
BOI Director-General Renuka Weerakone expects system will help to curb inconveniences faced by investors
Says new system helps to reduce 7,000 - 8,000 applications, paperwork, three physical visits by investors
Investors, employees, dependents and selected employees are eligible to apply for visa via new system
---
By Charumini de Silva
---
The Board of Investment yesterday launched an integrated visa recommendation system for all potential and existing investors to boost facilitation as well as productivity.

The initiative was a collective effort by the BOI with the Department of Immigration and Emigration and the Ministry of Defence, which provides online visa recommendations under key three categories: entry visa, residence visa and extension visa.

Investors, employees, dependents of the investors and selected employees are eligible to apply for visa recommendations under the new system.

Being the apex body responsible for the promotion, coordination and facilitation of foreign direct and local investments — the BOI aims at improving the Ease of Doing Business framework, whilst shifting towards digitalisation to boost efficiency.

Speaking at the launch, BOI Director-General Renuka Weerakone said they expect the system will help to curb inconveniences the investors face while strengthening the digital transformation with line Ministries and agencies.

"Previously, we used to get around 7,000 to 8,000 applications for the three categories mentioned. It was a lot of paperwork and collection for the investors as well as for the agencies that worked on it. The system also helps BOI to move to a paper-less operation structure, creating transparency and efficiency," she told the Daily FT.

Weerakone also said the new system eliminates the physical presence of investors at the BOI, by saving their time and allowing them to monitor the online portal and review the status of the process.

"I believe, the investors should be encouraged to pursue the growth of their enterprises, find new markets, enter into joint ventures, or start on new projects by diversification of activities. Thus, we as facilitators must provide enterprises with the seamless delivery of services. The BOI is constantly working on streamlining services offered to investors, whilst introducing new digital applications to curb physical interaction wherever possible," she added.

Weerakone also commended the collective effort, dedication and the unstinted support of all officials of the Department of Immigration, the Ministry of Defence and the BOI's IT team, noting they were also open to feedback to make necessary adjustments, to improve the system.

"We hope our continued collaborative efforts will bring much-needed synergy to stand in unity, which will also prove that Sri Lankans are agile and resilient," she stressed.