Promoter Malaysian born to Lankan parents, High-Speed Train and Mixed Development Project President Dr. Parimalam Michael conceived the project over a decade ago
Part of investment for PPP initiative already secured, hopes to commence program in 2022
E&Y to conduct comprehensive economic and technical study on the program
Agreement expected to be signed in Colombo this week
---
By Darshana Abayasingha
---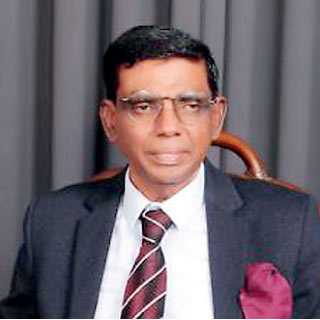 Dr. Parimalam Michael
---
The Board of Investment (BOI) has approved the start of a comprehensive feasibility study for deployment of an electrified high-speed rail project from the Bandaranaike International Airport (BIA) to the Colombo Port City, and from Katunayake to Mattala International Airport.

The latest breakthrough was disclosed by President of High-Speed Train and Mixed Development Project Dr. Parimalam Michael, who conceived the project over a decade ago. "If approved the two-stage program would bring $ 2.7 billion in investment to Sri Lanka, with implementation possible as soon as 2022," Dr. Michael told the Daily FT in an exclusive interview.

He says his role is purely to facilitate the required foreign direct investment into the country. Ernst & Young will be commissioned to conduct a comprehensive economic and technical study on the program, with the agreement expected to be signed in Colombo this week.

"We have already signed an MoU with the BOI, and we received approval to undertake the study for two sections of the project. One is the 53 kilometres from Negombo to the Port City in Colombo, and the second stage is to conduct another line from BIA to the airport in Mattala with two stopovers in Galle and Matara. This would be under a Public-Private Partnership," Dr. Michael explained.

A former head of Malaysian trade delegations under Mahathir Mohammed, Dr. Michael says he marketed his idea on an electrified railway system in Sri Lanka extensively across many countries, and whilst the then regime under current Prime Minister Mahinda Rajapaksa had considered the project positively, political changes had delayed its advancement. Dr. Michael is cognisant of the recently cancelled Colombo LRT project, which was labelled economically unviable for the country.

"My project is completely different; my angle is purely to bring in investment to the country. To tap into foreign markets to form the equity, and encourage them towards the financial model we need to do. Shinan Bank, South Korea's second largest bank has pledged it could commit 200 million euros in funding towards this project, which I have communicated. I am engaging experts like Ernst & Young to put up a good financial model, and also some prominent companies in China who have been involved in the railway business for a long time. I am not looking very much at the Chinese funding system, there are enough other equity funds from very large financial houses like in the UK for instance," he added.

The first stage of the project will cost an estimated $ 1.7 billion for 53 kilometres, Dr. Michael says, whilst the second stage will add another $ 1 billion. He asserts there is adequate power supply to power these electric trains, despite concerns over Sri Lanka's grid. Sri Lanka over the next three years will need to require heavily on foreign investments. He notes that local banks are being extremely cautious and conservative with lending at present, and says that even developments such as apartments are slowing down as buyers are no longer here.
New investment opportunities

Dr. Michael hopes his project will open new avenues for investment and further opportunities in the country. He says that 100 Sri Lankans will be sent to China to receive training on operating electrified lines, whilst many more would receive similar opportunities, including current and former employees of Sri Lanka Government Railways.

"I think there is enough experience gained over the last 10 years. There is no government in the world that has not made mistakes. Mistakes make the country stronger. Sri Lanka is still very dynamic despite the pandemic.

"The comprehensive study will create a very valuable report to discuss how we can take this project forward. This is not focused on just transportation alone; downstream it creates room for many new developments besides the trains. For example, we have identified five acres of land at Ragama where we are trying to put up centre with a terminal there. We have 150 acres in Bopitiya where we are trying to develop an ecologically-friendly township with leisure facilities for people to enjoy – like Disneyland. I have been trying to invite Disneyland into Sri Lanka because the potential is so big. India itself is sufficient for us and the Maldives. Lots of people are travelling to Japan and Hong Kong, so why not Sri Lanka. We will have the necessary infrastructure, and it's an excellent location.

"Besides that, we will also have train links and terminals, and we are planning a business-class hotel with check-in facilities for boarding passes, so people can send baggage through the train and carry on as you wish.

"The government is looking at options to expand the airline business in the second airport. They are trying to create a positive balance between the airports in Jaffna, Colombo and Mattala. I think this is very important for Sri Lanka. Without the necessary infrastructure, and at least two main cities coming up, it will become very difficult. Over the next five years, the Port City will be built and Colombo will become crowded. Even with the new expressway coming it will not be sufficient. People need to have a second choice without having to pay additional parking fees, time, etc. Especially for the masses coming from other parts of the country. I think it is very timely for Sri Lanka to look into this project.
Proper infrastructure is key to everything

"Proper infrastructure is necessary to make everything else work. It shouldn't take two hours to go from the BIA to Mattala within a short distance like this. The country must be agile. They should be able to book a hotel straight from the airport and within 45 minutes from the BIA reach Mattala in a comfortable super-fast train with all the facilities. People will pay for it. We will have all grades of compartments. Even people in Galle and Matara can use this facility to come to Colombo in 20 minutes and save money on parking etc.," Dr. Michael stated.

This electrified railway project is very important in time to come as the population grows, he added. Dr. Michael hopes to create an effective team of foreigners and locals to take it forward, and has invited the support and participation of Sri Lanka's private sector. Sri Lanka has much more to offer than the Maldives, he says, but the country needs to fix its transportation issues; without it there cannot be any progress, as no one wants to visit a congested location. He also noted that the existing railway line will not suit the proposed new railway, and that they would be looking to avoid the existing routes as much possible. Much of the route plan is already done, he stated.

"I have been working on this project since 2012. I had this idea back then for the electrification of Sri Lanka's rail system. Back then, I represented Sri Lanka's interests in the International Railway Conference in Singapore – attended by 38 countries, including UK, India, Japan and Korea. I received a lot of interest in this project. If you ask why, as a Malaysian, I am interested in Sri Lanka and this project, it is because there is sentiment involved. My mother was born in Kandy, and my father worked on the last railway tracks built to Kandy in 1894 – he was an ordinary track layer, who worked for Ceylon Railways, and then to India. We have to look confidently at the future. COVID is at its worst place and it cannot get any worse from here. The entire global economy has to turn around. Foreigners come to make money and go, but that is not my intention."