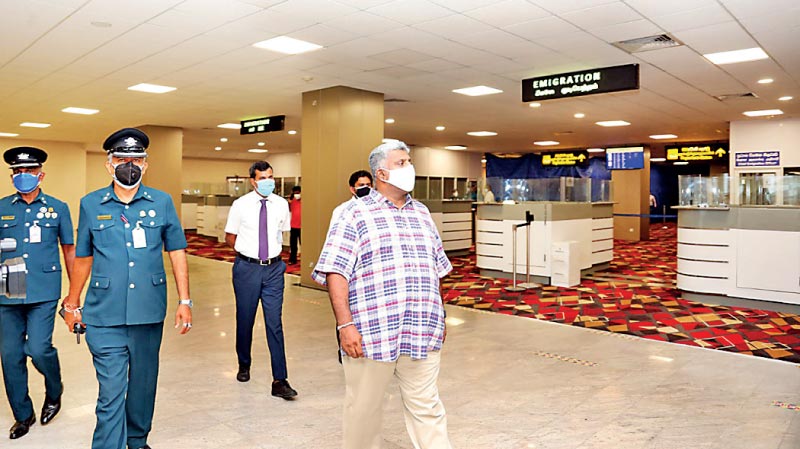 Tourism Minister Prasanna Ranatunga
---
Tourism Minister says move will reduce delays, overcrowding
Inspects construction work of new counters, duty-free shopping complex, passenger lounge and terminal as part of $ 770 m modernisation
Says expansion move will add capacity to handle 9 m more passengers annually from 6 m at present
---
In a bid to reduce overcrowding and delays at the Bandaranaike International Airport (BIA), the number of Immigration and Emigration counters has been increased from 18 to 23.

Following a recent visit to inspect the BIA expansion project progress, Tourism Minister Prasanna Ranatunga said steps were being taken to further increase the number of Immigration and Emigration counters up to 30.

"There were many complaints from tourists about the delays caused by the Immigration and Emigration counters. We have now extended the number of counters and equipped them with the latest technology to facilitate faster clearance procedures. The aim is to reduce overcrowding and delays at the airport after a long flight and enable them hassle-free exit to reach their final destination," he said.

The Minister also inspected the construction work of the new counters, duty-free shopping complex, passenger lounge and terminal that will be built in a phased-out manner.

The biggest component of the BIA expansion project worth Rs. 108 billion commenced in November 2020. The commissioning of this major expansion follows the impending completion of the Rs. 6 billion worth improvements made at BIA.

The two-part project consisting of 'Package A' and 'Package B' is funded by Japan International Cooperation Agency (JICA). The Japanese Government has provided a loan of Japanese Yen 74,397 million (Rs. 133 billion), while Airport and Aviation Services (Lanka) Ltd., will invest Rs. 21. 6 billion for the project. In US $ terms, the project is valued at $ 770 million.

The Government embarked on the major infrastructure development project, as it was imperative to increase the capacity of the airport's passenger terminal of BIA to accommodate the expected increase in the annual passenger capacity to 20 million passengers by 2025. The current passenger handling capacity of the BIA is around six million passengers per year.

"As the main international airport, BIA in Katunayake is already operating over capacity. The expansion will add the capacity to handle nine million more passengers a year," Ranatunga said.

The Minister also said that modernisation of several existing restrooms was planned to cater to passengers requesting rest facilities during their stay at the airport.