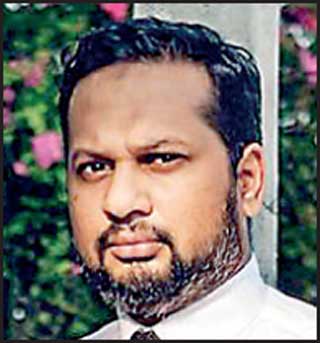 Hejaaz Hizbullah
---
The Attorney General yesterday informed the Court of Appeal that they would consent to the granting of bail to Attorney-at-Law Hejaaz Hizbullah.
Deputy Solicitor General Sudarshana de Silva informed the Court of Appeal yesterday that they have agreed to consent to bail to Hizbullah on 28 January. The trial is set to commence at the Puttalam High Court on the day.

Romesh De Silva PC, appearing for Hizbullah, told the Court that in view of the settlement he won't argue the revision petition filed in Court.

"There are a lot of facts and legal positions in my favour, and I wanted to argue this matter fully. But in the interest of my client, I have accepted the settlement," de Silva said.

A Revision Petition was filed in the Court of Appeal by Hizbullah after the High Court refused bail.

Hizbullah was arrested on 14 April 2020 and was held in incommunicado detention. After 10 months of detention at the CID, he was produced before a Magistrate and remanded.

He was thereafter indicted before the High Court of Puttalam on the strength of a statement of one child, for offences in the Prevention of Terrorism Act.

His lawyers have claimed that the witnesses were coerced and that the entire case is a fabrication.

Romesh de Silva PC with Niran Anketell and Shanaka Cooray instructed by Sanath Wijeywardena appeared for Hizbullah.

Deputy Solicitor General Sudarshana de Silva appeared for the Attorney General.

The case was heard before Justice Menaka Wijesundara and Neil Iddawela.

The European Union Parliament passed a resolution against Sri Lanka in June last year using Hizbullah's case as a symbol of the abuse of the Prevention of Terrorism Act. The EU resolved that until the PTA is reformed or abolished, they intend to re-evaluate the GSP+ concessions.