Ex-Minister and MP but proven business leader Thilanga replaces respected senior corporate lawyer Paul Ratnayake who tendered resignation
Newly-formed Asia Capital Stockbrokers Chairman Sagara Kariyawasam also quits
Controlling shareholder Vijay Eswaran identifies new Chairman as "my friend of 2 decades who shares similar vision for company"
Asia Capital announces dynamic new strategic direction for sustainable post-pandemic growth
Thilanga says will pivot and position Asia Capital as reputed Sri Lankan brand
---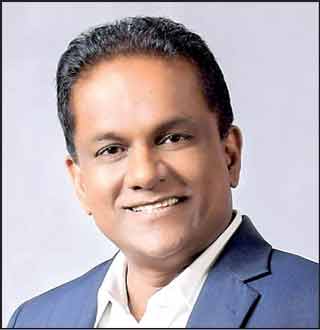 Thilanga Sumathipala
---
Business leader, ex-Minister and MP Thilanga Sumathipala has been appointed as the new Independent Non-Executive Director and Chairman of Asia Capital PLC.
The appointment was made at a Board meeting of Asia Capital, control of which is held by Malaysian investor Vijay Eswaran.

Sumathipala succeeds Paul Ratnayake, a respected senior corporate lawyer.

Separately Sagara Kariyawasam has stepped down as Chairman of newly-formed Asia Capital Stockbrokers Ltd. as well. Kariyawasam is the ruling party Sri Lanka Podujana Perumana's General Secretary and Member of Parliament.

Last month, Asia Capital also saw the exit of Joint Chief Operating Officers Reyhan Morris and Sandun Hettige.

The company however yesterday in a statement also announced a dynamic new strategic direction for sustainable post-pandemic growth.

Eswaran said: "I welcome this new paradigm. I am grateful to our previous Chairman for his years of service and now welcome my friend of two decades who shares with me a similar vision for the company. We both have, since the beginning of the millennium, built bonds of friendship beginning with our common experience in corporate social responsibility.

"I truly believe Thilanga will provide an inspiring and catalytic leadership and be at the helm of directing our common new strategic direction for Asia Capital, thereby creating the platform for Asia Capital for the next decade and post-pandemic era."

The Asia Capital statement said Sumathipala, no stranger to Sri Lanka's corporate environment having led family-owned conglomerate Sumathi Ventures, was the linchpin in the historic transformation of Sri Lanka Telecom (SLT) from Public-Private Partnership to a Public Quoted Company. During his tenure as SLT Chairman, he was able to acquire Mobitel which was then privately owned by Australian telecom giant Telstra.

In his forage into the political arena, he served the nation as a Member of Parliament in various capacities, being Deputy Minister of Skills Development and Vocational Training, Minister of Technology and Innovation and Deputy Speaker of Parliament.

"He took a step back from active corporate life for the better part of a decade. Astute and respected entrepreneur and businessman, Sumathipala's return to active corporate engagement is welcomed and we are privileged to have him lead the strategic new direction of the organisation," Asia Capital statement added.

Commenting on the appointment, Sumathipala said in the statement: "COVID-19 has changed the world as we know it. It has caused all of us to reassess and redefine our roles, and for me personally, as a person passionate about the growth and development of my country, which I believe has massive untapped potential, steering the course of an organisation such as this is a privilege, as it will be the ideal platform to put my professional qualifications, experience, and network to the best service of both the organisation, as well as the country."

Speaking on the strategic direction, Sumathipala said: "Asia Capital PLC is a reputed, diversified conglomerate recognised across Asia, and I look forward to working closely with the leadership team to formulate and engage a strong, sustainable growth trajectory for Asia Capital PLC which will pivot and position us as a reputed Sri Lankan brand."

As at 30 June, Asia Capital was carrying a retained loss of Rs. 2.3 billion at group level and Rs. 582 million at company level.

Asia Capital started as securities trading company in the early 1990s, specialising in stockbroking, and later expanded its business portfolio to encompass a larger share of the investment banking market in Sri Lanka. It also diversified into leisure and other sectors and has unusually high subsidiaries and associates numbering over 20.

In January this year, Eswaran bought out the major Japanese investors holding a 16% stake for Rs. 160 million. Eswaran directly holds a 71.6% stake and related party Fast Gain International Ltd. holds 18%, making it a collective control of near 90%. Public float of Asia Capital is 28% held by 6,184 shareholders.

Exit of the Japanese investors ended a months-long rift with the then Asia Capital senior management over a lack of adequate return on their original investment, as well as other alleged irregularities. The company has denied these allegations.