Air Force and Army to produce locally designed Personal Protection Equipment suits for Health Ministry
First batch of 1,000 delivered; plans to produce between 1,000 – 1,500 kits a day
Low-cost PPE suits are disposable and made of biodegradable material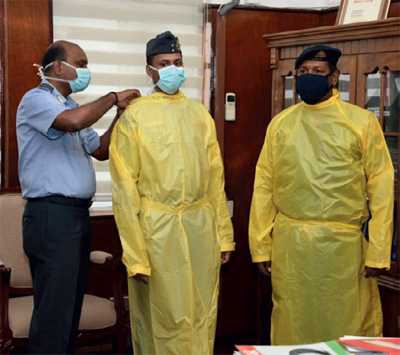 The Sri Lanka Air Force (SLAF) delivered the first batch of locally designed and manufactured Personal Protective Equipment (PPE), Overall Cover suits and boot covers to the Ministry of Health today. 

The suit designed by Consultant Paediatrician Dr. Udaya De Silva in Anuradhapura was streamlined with assistance by the Government Medical Officers Association (GMOA) and is being manufactured by the Air Force and the Army. Dr. De Silva had observed the need to equip medical personnel with more PPE and came up with a local design which is low cost.   

His innovation and the subsequent local production come at a time when PPE supply is limited from foreign manufactures. 

"We estimate that we need at least 300,000 PPE kits for Sri Lanka and many countries that manufacture them have placed export restrictions on the product, therefore local manufacture is very important," opined GMOA Executive Committee Member Dr. Prasad Colombage. According to Dr. Colombage, the GMOA supported and facilitated the adoption of the locally made kit.

"The local supply of PPE overall cover suits and boot covers is valuable at this time of need, the Air Force and Army are both manufacturing them and we expect daily deliveries of around 1,000 – 1,500 kits a day," said Director Medial Supplies Dr. Kapila Wickremanayaka. The kits are for single use and will be disposed afterwards.

The first 1,000 PPE kits were handed over to Ministry of Health Services Secretary Bhadrani Jayawardena and Health Services Director General Dr. Anil Jasinghe at the Ministry of Health premises the Air Force told the Daily FT. 

Sources in the Health Ministry told the Daily FT that an urgent order for 10,000 units may be placed with the armed forces to replenish depleted stocks. Adequate PPE supply is vital for the front-line medical staff fighting COVID-19 to carry out their duties. 

"The kits are disposable, made of a biodegradable material and cost around Rs. 100 – 150 to manufacture," said SLAF Air Vice Marshall Lalith Jayaweera. According to AVM Jayaweera, the Health Ministry had purchased the raw material suitable for the task for the armed forces. Both Wickremanayaka and Jayaweera emphasised the need to supply PPE kits in adequate number to hospitals around island as the usage is high.
"A foreign manufactured single use disposable kit cost around Rs. 7,500," AVM Jayaweera said, pointing out that local manufacture was cost effective. 

"We can manufacture around 1,000 kits a day and we plan to deliver them to the Ministry on a daily basis. The Air Force Commander visited the manufacturing facility yesterday and the technical staff at the General Engineering Wing are working around the clock to deliver the kits along with the Army," AVM. Jayaweera added.