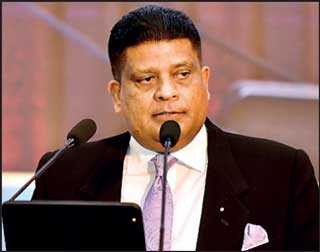 Army Commander General Shavendra Silva
---
Army Commander General Shavendra Silva on Wednesday urged the private sector to grab unfolding business opportunities with a positive mind as it would have a significant role to play for the country's
sustainable growth and development.

Speaking as the Chief Guest at the CIMA-ICCSL-Daily FT organised Most Admired Companies 2020 Awards ceremony at the BMICH, Silva said with the new normalcy prospects, the Government had taken many important initiatives and policies to create a favourable trade environment and encourage businesses to support achieving inclusive and sustainable growth.

"Learning from COVID-19 impacts, new prospects focus on attaining the resilience in the country's economy by increasing the local business opportunities, value-adding of exports, increasing finished products, diversifying the exports, moving to renewable energies, exploiting the foreign market demand for skill and knowledge base human capital, increasing the domestic food-making capacity, etc.," he said.

He also said changes to the pattern of living, supply chain and tourism as well as information and data management would have many other associated changes in the business domain, and introduce more opportunities as never before.

"Therefore, the business sector has a significant role to play in time to come, for the country's sustainable growth and development," the Army Commander emphasised.

Moreover, he pointed out that under the new normalcy, the safer environment prevailing in Sri Lanka compared to other countries in the region would enable the commercial counterparts of Sri Lanka to gain an edge over other competitors, increase their market share, boost stakeholder value and absorb foreign investments and partnerships.

"Therefore I request to grab today's business opportunities in front of you with a positive mind. Cooperation and partnerships are essential tools for companies to strengthen their capabilities and internationalise the trades. It helps the companies to be resilient and recover soon after any hiccup. This also is an area that the Government has been strongly supportive of. These initiatives can provide companies with a narrow roadmap to broaden their scope and achieve success," said Silva, who is also the Chief of Defence Staff.

"I hope COVID-19 situation gave us a good opportunity to understand where we stand, how our trades can restart. Therefore, companies can assess and identify weaknesses and strengths and areas for improvement and then act on those via a systematic approach to improve business performances," the Army Commander said.

Silva along with Guest of Honour India's Deputy High Commissioner Vinod K. Jacob presented awards to Top 10 Most Admired Companies and five honourable mentions. The top 10 companies in alphabetical order were Bank of Ceylon, Cargills Ceylon PLC, CBL Investments, Commercial Bank Of Ceylon PLC, Dilmah Ceylon Tea Company PLC, Hatton National Bank PLC, LOLC Holdings PLC, NDB Bank PLC, People's Bank, and Sri Lanka Telecom PLC. The five honourable mentions in alphabetical order were Aitken Spence PLC, Ceylinco Life Insurance Ltd., John Keells Holdings (JKH) PLC, Sampath Bank PLC and Sunshine Holdings PLC.

See pages 10-11 for the full speeches of Army Commander Shavendra Silva and Deputy High Commissioner Vinod K. Jacob.