Ups stake in third largest and fast-growing cable company to 25%
---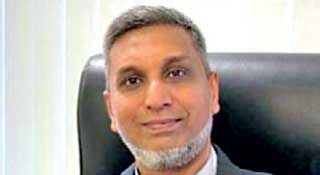 Imtiaz Buhardeen
---
Almas Group owned by high net worth investor Imtiaz Buhardeen has got bigger with Ishara Nanayakkara-controlled Sierra Cables PLC as an associate company.
From an original stake of around 13% in July 2020, Almas has increased the ownership to 25.03% by last week. The stake, amounting to 134.56 million shares, is held by Almas Holdings Ltd., and Almas Capital Ltd. Sierra Cables share yesterday closed at Rs. 13.30 with a market capitalisation of Rs. 7.15 billion.

The two major shareholders of Sierra Cables are Iconic Trust Ltd., (29.18%) and Sierra Holdings Ltd. (26.67%). As at June 2022, the public float of Sierra Cables was 30.38% held by 21,797 shareholders.

Sierra is the third largest player in the cables market after ACL and KCAB and has been reporting improved results.

Buhardeen is optimistic of the company and its future and expects Sierra Cables to broaden its scope and profitability with the drop in raw material prices in international markets and its subsidiary that produce PVC products to the local market.

The increasing of stake in Sierra Cables by Buhardeen comes hot on the heels of Almas last month acquiring 10% stake in Asia Siyaka Commodities for Rs. 120.5 million and in May buying full control of Assetline Securities, a stock broking firm.

Since it was founded in 1984, Almas group has built up strategic interests in many sectors including listed securities, unlisted securities and the real estate sector with significant holdings in Sri Lankan listed entities.

Sierra Cables has established a strong presence in Sri Lankan and the overseas marketplace as a complete and comprehensive power cables supplier for the residential, commercial and industrial sectors during the last decades. The company is a leader in the manufacturing, marketing and distribution of copper and aluminium cable products for the energy, industrial, specialty and communications sectors.

Sierra Cables has grown venturing into prospective cross-border markets such as Kenya and Fiji. Its overseas companies – Sierra Cables East Africa Ltd. and Cables PTE Ltd. add to the company's growing presence within the international market, driving Sierra Cables PLC forward in capturing new markets. In addition, Sierra Industries Ltd., another subsidiary engages in manufacturing and marketing of high-quality PVC pipes and fittings using modern technology.

Despite many challenges in the last financial year 2021/22, the Sierra Cables Group recorded a Profit after Tax of Rs. 472 million, being the highest ever in the history of its operations. It outperformed previously established top line levels recording Rs. 8.3 billion, a 50% growth over FY21.

Start of the new financial year (FY23) the company recorded an impressive growth in Gross Profit up by 335% to Rs. 596 million compared to first quarter profit of Rs. 177 million in 2021/22. The Profit after Tax for the same period was up by 280% to Rs. 146 million compared to the previous year's Rs. 45 million.