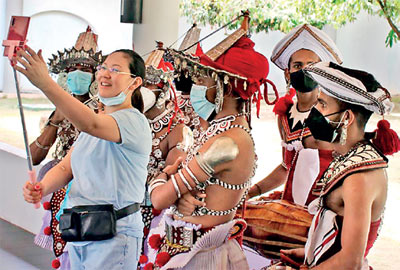 Aitken Spence Travels, the leading destination management company (DMC) in Sri Lanka working in partnership with TUI Kazakhstan, welcomed its first flight for the winter season from Kazakhstan yesterday.

Air Astana, the flag carrier of Kazakhstan, will be operating three flights per week every Tuesday, Wednesday and Friday and has a capacity of 160 passengers. The flights will continue until April 2022. All travellers booked through Aitken Spence Travels are fully-vaccinated travellers, travelling for the purpose of leisure holidays.

Accommodation has been booked mainly in four-to-five-star hotels, with several selected luxury hotel properties also being purchased. Aitken Spence Travels has secured bookings for over 30 properties so far, and the number is likely to increase to 50 by the peak of the season. The clients have booked excursions to the cultural triangle, Pinnawala elephant orphanage, Yala and whale watching.

Commenting on this flight operation from Kazakhstan, Aitken Spence Travels Managing Director Nalin Jayasundera said: "On 17 November in Almaty – Kazakhstan a workshop was held which was followed by a grand launch ceremony promoting 'Destination Sri Lanka'. The event was patronised by over 250 travel agents and dignitaries in the tourism industry who were privy to the Destination Sri Lanka presentation. We are currently in discussion with the authorities to increase the number of flights per week by the end of December enabling more tourists to visit Sri Lanka."

"Our longstanding relationship with TUI, the largest integrated tourism management company in the world, has provided a plethora of opportunities for the tourism industry in Sri Lanka by positioning Sri Lanka as a destination in their network," further commented Jayasundera.

Once again, tour operators and DMCs have aided the tourism industry's recovery by intervening to secure flights to Sri Lanka; working relentlessly to present a favourable image of Destination Sri Lanka in the eyes of travel agents and potential markets interested in visiting Sri Lanka.

Aitken Spence Travels, as a leading tour operator, is delivering a steady stream of tourists to Sri Lanka at a critical juncture in the country's and tourism industry's efforts to promote the destination as a safe holiday destination. All required precautions are taken to ensure that all health and safety protocols are followed, assuring the safety of the guides, chauffeurs, and guests throughout the tours.

"This airline operation is a step in the road to recovery of the tourism industry. We are hopeful that the numerous stakeholders, such as accommodation providers, guides, excursion providers, chauffeurs, etc. will gain and contribute to the country's economic recovery," said Aitken Spence Travels.