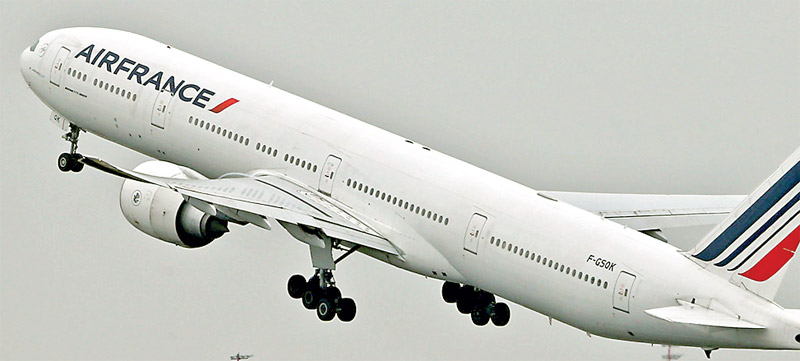 ---
French carrier to operate to Sri Lanka first time after 35 years
Connaissance De Ceylan Chief Chandra Wickramasinghe urges tourism and aviation authorities to maximise benefits to Sri Lanka
France is Sri Lanka's 5th biggest source market; prior to COVID pandemic over 100,000 French tourists in 2018/19
---
Air France has announced 'Colombo-Male' flights thrice a week from November this year; a move which the travel and tourism industry, whilst welcoming, have urged the authorities to maximise its benefits to Sri Lanka.

"At a time when the world is experiencing a 90% downturn in international tourism, giant airline operator Air France considering to operate to Colombo and Malé shows the confidence they have in the Sri Lanka and Maldives combination," Connaissance De Ceylan Chairman Chandra Wickramasinghe told the Daily FT.

France is the fifth biggest tourism source market for Sri Lanka and resumption of flights, first time since the 1980s confirms the French national carrier's attraction to and confidence in Sri Lanka.

During 2018/19 Sri Lanka received over 100,000 tourists from France, all having minimum stays of eight nights earning considerable foreign exchange for the country. Aviation connections between the two countries commenced in 1968 with UTA French airline flights operating the Colombo-Muscat-Colombo sector. It worked well for many years till 1985, Wickramarasinghe recalled.

"We have to understand the significance of a national carrier of a major source market commencing operations from a specific destination. It gives a huge boost to the destination. With Air France having a network of over 200 offices across the world, this initiative will lead to all of them actively marketing the Sri Lanka-Maldives combination. This announcement itself is worth millions of dollars of publicity. Hope our authorities will understand the value of this venture and make maximum use of the same," Wickramasinghe said.

"We hope the Sri Lankan Government, Sri Lanka Tourism and the Civil Aviation Authority will give their fullest support to make use of this travel gate to maximise French travel to Sri Lanka. If we don't proactively act on this, Maldives will get the full allotment disembarking at Malé," he emphasised.

"Sri Lanka Tourism must make use of this opportunity and launch a support program for French tour operators through their counterparts in Sri Lanka. They should think out of the box and come up with aggressive marketing programs to promote Sri Lanka as a destination. If not, Maldives will surely make maximum use of the new service," Wickramasinghe added.

According to him, the French market is one of the most diversified with segmented markets such as general tour operating, FIT, A La Carte operations, Comité d'Entreprise groups, incentive groups, adventure groups, etc. which have the potential to attract many French tourists to Sri Lanka.

"However, this will mainly depend on our out of the box thinking and new normal guidelines. All double vaccinated clients, after the first negative PCR must be given the liberty to travel, of course with travel-friendly regulations. After all they are here for leisure and pleasure," said Wickramasinghe.

He said 70% of the French tourists engage in round trip, hence there will be income to the cultural triangle, temples, national parks, etc. This will also provide opportunity for tour guides, provincial tour guides, jeep drivers, whale watching boat operators, spice gardens, tea factories, etc. to revive their livelihoods.

"We have to make our beaches and resorts more attractive for them to spend two-three or more nights on the beach. Otherwise, they will think of Maldives for the beach stay," Wickramasinghe added.

He urged Sri Lanka Tourism to contact French market specialists in Sri Lanka to create a serious marketing program to cover all segments of the French market. Well-seasoned operators will be able to suggest many innovative ideas to make this program work, he added.

Wickramasinghe also said disembarking French clients from this flight will totally depend on health guidelines. "Not a single client will come here to go through a quarantine period of 14 days and to have so many PCR tests during their stay. If we need Euros for our depleting forex coffers, the COVID Task Force must make the regulations leisure-friendly with precautions," he opined.