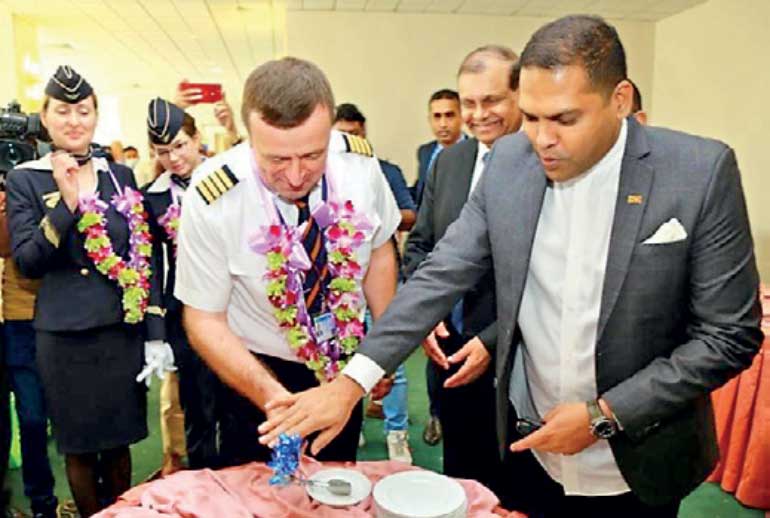 Announces plan to increase frequency from twice to thrice weekly flights from Nov. to March 2023
Tourism Minister Harin Fernando says SL expects an influx of tourists from Nov. onwards
---
Russia's flag carrier – Aeroflot arrived in Sri Lanka yesterday, resuming flights between Moscow and Colombo after a lapse of four months, whilst announcing that it will increase frequency from twice to thrice weekly flights from November.
The fight SU288, A300-330 aircraft carrying a total of 252 passengers, arrived at the Bandaranaike International Airport (BIA) at 10.06 a.m. yesterday. "Russia's Aeroflot flight that landed in Sri Lanka, arrived at full capacity consisting of tourists," Tourism Minister Harin Fernando told reporters at the BIA.

Aeroflot returns...

With the resumption of Aeroflot services, Minister Fernando said Sri Lanka expects an influx of tourist arrivals from November onwards.

"This flight will also attract tourists from several other Eastern European countries to Sri Lanka. This is a big boost for the triple-hit tourism industry," he added.

Separately, the Airport and Aviation Services (Sri Lanka) said Aeroflot will operate three flights per week from next month till March 2023. "During October, Aeroflot will operate two flights per week, where over 75% of seats have been reserved by now," AASL said.

The AASL also said the recommencement of Aeroflot to Sri Lanka will immensely contribute to the booming aviation, travel, and tourism industry in Sri Lanka.

Aeroflot is the oldest international airline that operated flights to Colombo, and it has been operating the Moscow-Colombo route since 1964. In 2020, the airline had to stop operations in Colombo due to the COVID pandemic and resumed operations post-pandemic on 21 November 2021.

Since the reopening of borders on 21 January 2021, the number of Russian tourist arrivals to Sri Lanka increased. Russia remains the third largest tourism source market year-to-date with 51,300 arrivals, behind India and UK.