Says improving macro stability and lower yields may strengthen equity returns
Improvement in demand for stocks can lead to possible re-rating of the market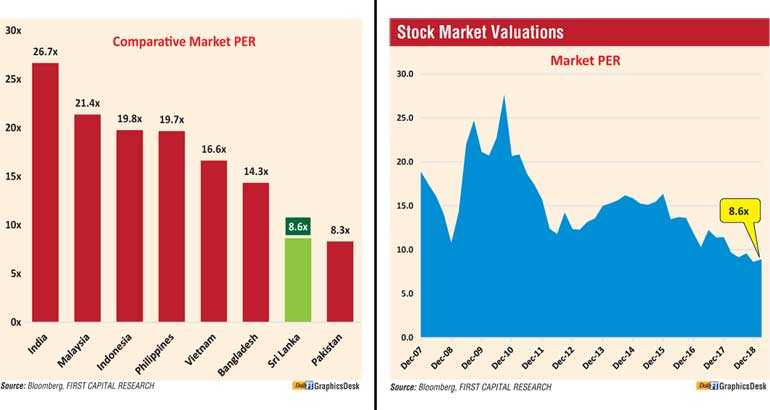 ---
First Capital Research yesterday said accelerated economic recovery is likely for Sri Lanka, as the months after the Easter Sunday attacks had shown a faster return to normalcy, quicker removal of travel advisories, and unexpected signs of resilience.
Releasing its latest update, First Capital Research said despite the Easter Sunday attacks, Sri Lanka's economic outlook has shown signs of resilience and ability to recover quickly, as economic activities were seen returning to normalcy while removal of travel advisories were faster than anticipated.

"Though the unfortunate attacks and the subsequent events are likely to have directly or indirectly impacted all sectors, affecting earnings of most companies, we believe that the impact has now been factored into the market and an accelerated recovery is more likely than not."
The successful and early issuance of the $2 billion Sovereign Bond by the Central Bank was also a major confidence booster, and the heavy investor interest, which was reflected by the three times oversubscription, was seen as encouraging by First Capital Research.

With most economic indicators such as inflation, credit growth and liquidity suggests decline in yields, strong reserve position supports sustainability of the lower yields. In line with expectations Bank 1-Yr FD ceiling has fallen to 9.83% as of 1 Jul 2019.

"The heavy decline in interest rates is expected to lower finance costs, thereby improving earnings of most listed entities towards 4Q2019. In addition, lower Fixed Income returns may lead investors to hunt for alternative investment options with higher returns, of which equity investments is likely to be a more probable option considering the current attractive valuations. Thereby we expect an improvement in demand for stocks leading to a possible re-rating of the market."

Following the Easter Sunday attacks, First Capital Research expected a major negative hit to the consumer sector which was on a gradual recovery path. The recovery was confirmed with GDP for 1Q2019 registering at 3.7% while it was also reflected by indices released subsequently. Consequent to the incident economic activity came to a near standstill which impacted day to day affairs of most businesses and severely impacting the SMEs.

"In line with our expectations, the Nielsen - Consumer Confidence Index slumped to 37 and

36 points in May and Jun 2019, new lows since inception of the index," it added.

It also said that with the rights issue being fully subscribed, Sampath Bank is correctly cash heavy with the ability to maintain lending growth well above the industry while capturing market share. "We are bullish on SAMP and recommend investors to invest 25% of the balance cash allocation into SAMP increasing equity portion of the portfolio to 69%," First Capital Research added.