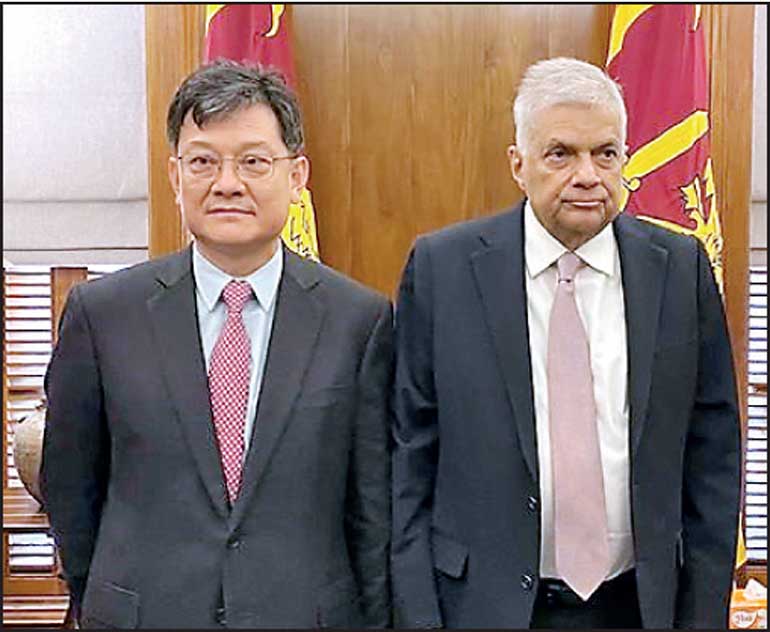 Asian Development Bank Vice President Shixin Chen and President Ranil Wickremesinghe
---
Asian Development Bank Vice President Shixin Chen met with President Ranil Wickremesinghe on Monday and discussed future assistance.

ADB Vice President acknowledged the steps being taken to contain the crisis and address its underlying causes, and supported the efforts to seek international assistance.

Chen briefed the President Wickremesinghe on ADB's emergency response to the crisis, especially in addressing immediate needs such as essential medical supplies, materials for water treatment, fertiliser and working capital for small- and medium-sized enterprises by repurposing from ongoing ADB-funded projects.

In response to the food situation in the country, ADB supported the poor and vulnerable of Sri Lanka with direct financial support while boosting livelihood development activities and agricultural production and enhancing social protection systems. In addition, through the Trade and Supply Chain Finance Program, ADB has provided guarantees to help critical international trade to continue.

"ADB is deeply concerned about the effects of the ongoing economic crisis on the poor and vulnerable sections, including women, of Sri Lankan society, particularly its long-term impact to people's lives," said Chen.

"ADB is a trusted development partner of Sri Lanka, and we are working closely with authorities as well as other development partners to address immediate needs and plan future assistance," he added.

Chen highlighted the need and called for deep, meaningful, and sustained structural reforms to address long-standing macroeconomic vulnerabilities, promote private sector development and to support renewable energy development.

Chen underscored the importance of strengthening macroeconomic management, improving governance, addressing structural constraints, and enhancing social protection system for sustained and inclusive recovery.

During his visit, Chen also met with Prime Minister Dinesh Gunawardena, Secretary to the Treasury Mahinda Siriwardana and Central Bank of Sri Lanka Governor Nandalal Weerasinghe.

At the invitation of Wickremesinghe, ADB Vice President participated at the high-level round table discussion on structural reform for economic recovery and sustainable growth along with representatives from the Asian Infrastructure Investment Bank, the International Monetary Fund and the World Bank.

The Government's reform agenda was discussed along with proposed policy directions, reform priorities, other interventions, and future collaboration and support from international partners.

Chen will also witness the unloading of a 42,000 metric ton Muirate of Potash (MOP) fertiliser shipment at the Colombo Port, which is part of ADB's emergency assistance to Sri Lanka. The fertiliser stock will be distributed to paddy farmers throughout the country to support agriculture production and address food insecurity.

ADB is committed to achieving a prosperous, inclusive, resilient, and sustainable Asia and the Pacific, while sustaining its efforts to eradicate extreme poverty. Established in 1966, it is owned by 68 members, 49 from the region.