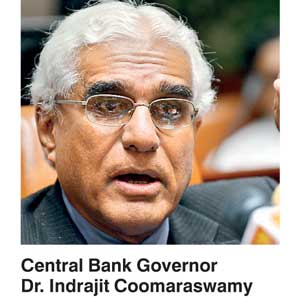 By Uditha Jayasinghe

The Central Bank is projecting Sri Lanka's economy to grow at 6% in 2017 amid expectations of the Hambantota port sale to China bringing in much needed foreign exchange that will strengthen the rupee and stabilise local interest rates.

Central Bank Governor Dr. Indrajit Coomaraswamy was upbeat over Sri Lanka's prospects at a media briefing, insisting that "unless there are major shocks we will do better than 2016".

Not only was the Governor confident of the International Monetary Fund (IMF) signing off on the second tranche of the Extended Fund Facility (EFF), he was also optimistic over Government plans to sell the Hambantota port and Mattala airport as well as divesting non-strategic assets such as hotels and hospitals.

"The port is not a debt-equity swap, it is more a sale where we receive the money outright but the Government continues to service the debt," he said, adding that the deal was likely to be concluded in five months.

"I'm hoping the Government will use the cash to retire domestic debt, stabilise the currency and internal interest rates," he said. Coomaraswamy also stressed that current policies were adequate to allow the economy to grow at 5% or slightly over and assured credit growth would continue to decelerate to about 20% by year end.

Ending a 17-month-long decline, Sri Lanka's exports in August saw some hope as the earnings rose a modest 8.4% to $ 866 million from a year ago but the first eight months of exports declined by 4.1% to $ 6.87 billion against the same period last year, the summary external sector data released by the Central Bank showed. Sri Lanka's exports have been on the decline since March 2015 due to the global commodity price slump, which impacted the agricultural and industrial exports, while lower domestic supply also contributed.

Expenditure on imports in August rose 8.3% year-on-year (YoY) to $ 1.65 billion. However, the imports during the first eight months declined a minor 1.6% YoY to $ 12.4 billion. Imports to Sri Lanka have also been on the decline for many months since July 2015, except for two months, due to lower global commodity prices, particularly oil. Especially during 2016, the consumption imports declined as such imports cost more following the weakening of the rupee.
Tourism earnings in September hit $ 246.1 million while the total amount for the first nine months of the year hit $ 2.5 billion, the Central Bank said at the press conference. Remittances decreased by 1.1% to $ 577.9 million while total remittances from January to September increased by 3.9% to $ 5.38 billion.