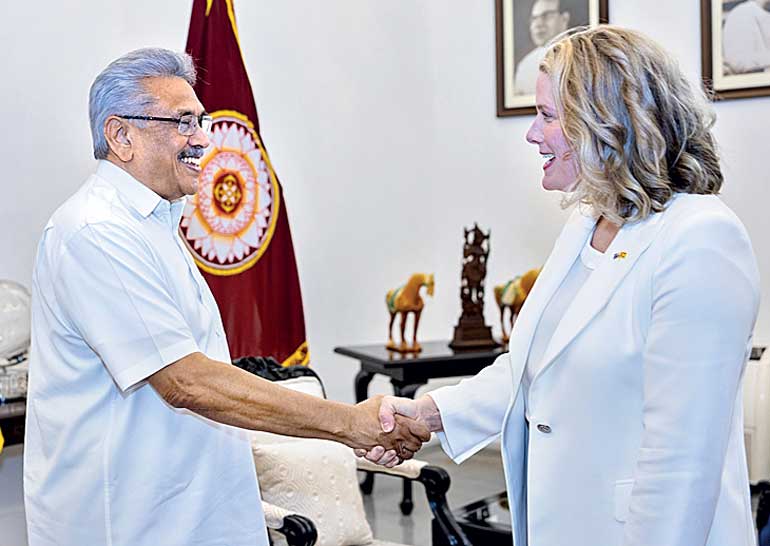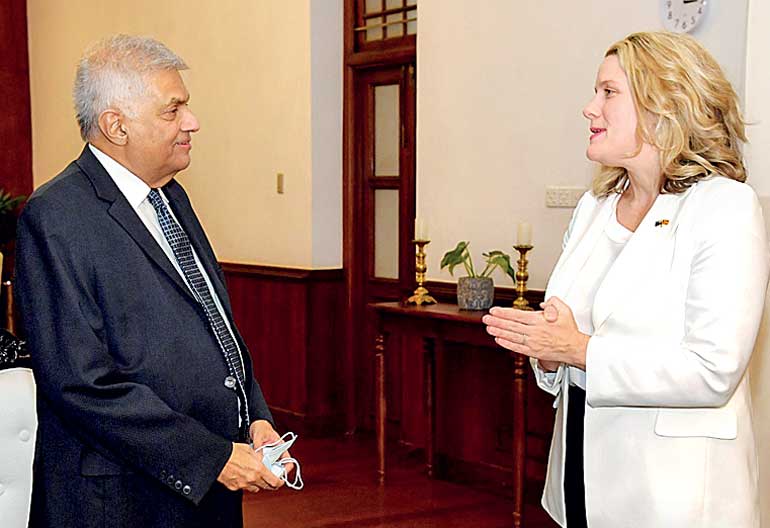 Visiting Australia Minister of Home Affairs Clare O'Neil announces important Official Development Assistance
Calls on President and Prime Minister and holds bilateral discussions
Two Lankan political leaders welcome Australian support to stabilise economy, offer relief to people
Aussie funding to meet urgent food and healthcare needs via World Food Program
Support includes $ 23 m in development assistance in 2022/23
Maritime security and human smuggling figure high in bilateral talks
Australia's navel, technical and material assistance welcomed
President says SL would extend its fullest support to maintain the Indian Ocean as a Security Zone
Investments, sustainable energy generation, vocational and technical education and to make Sri Lanka a hub for higher education, fisheries among bilateral matters discussed
Australia is giving a much-needed boost to Sri Lanka by committing $ 50 million worth of Official Development Assistance.

The announcement of fresh support was made by Australia's Minister for Foreign Affairs Penny Wong via a statement and personally conveyed by the visiting Australia's Minister of Home Affairs Clare O'Neil who also held separate meetings with President Gotabaya Rajapaksa and Prime Minister Ranil Wickremesinghe to discuss bilateral matters.

Australian funding will be channelled towards meeting urgent food and healthcare needs in Sri Lanka which is facing its worst economic crisis in seventy years, leading to shortages of food, medicine and fuel.

Recognising the close and long-standing relationship with Sri Lanka, Australia said it not only does want to help the people of Sri Lanka in its time of need, there are also deeper consequences for the region if this crisis continues.

Australia will contribute an immediate $ 22 million to the World Food Program for emergency food assistance to help three million people in Sri Lanka meet their daily nutritional needs.

Furthermore $ 23 million in development assistance will be provided to Sri Lanka in 2022-23.

"This will support health services, and economic recovery, with a strong emphasis on protecting those at risk, especially women and girls," a statement issued by Australia's Minister for Foreign Affairs Penny Wong said.

These contributions are in addition to $ 5 million recently provided to United Nations agencies for Sri Lanka.

President Media quoted Australia's Home Affairs Minister Clare O'Neill as saying that the Australian Government will assist Sri Lanka in overcoming the present economic crisis in compliance with the International Monetary Fund (IMF) framework.

She expressed support when she called on President Gotabaya Rajapaksa.

The statement from President Media said the "Zero Chance" campaign for illegal migration and human trafficking was the policy of the previous Conservative Government of Australia.

Claire stated the same was the policy of the new Government too, which represents the Labour Party.

President Rajapaksa explaining the steps that he had taken when he was the Defence Secretary to prevent illegal migration said that the Navy is taking such actions as are necessary to prevent illegal migration. President Rajapaksa appreciated the support of the Australian Government in providing naval, technical and material assistance and noted that the two countries were working closely together.

Australia is on high alert for security in the Indian Ocean. President Rajapaksa stated that the Sri Lankan Government would extend its fullest support to maintain the Indian Ocean as a Security Zone. It was also revealed that around 50 Navy personnel are currently in Australia for special training. The President commended such training opportunities and their cooperation with the Sri Lankan security forces.

O'Neil assured her willingness to provide assistance to increase Government revenue and also help in the success of the sustainable energy generation program through the experience in customs administration.

She also said that her Government is ready to assist in the regulation of fishermen, the promotion of vocational and technical education and to make Sri Lanka a hub for higher education for international students.

Australian Border Force/Department of Home Affairs APM Commissioner Michael Outram, Joint Agency Task Force RAN - Commander CSC Justin Jones, Australian High Commissioner in Sri Lanka David Holly, First Secretary Ashley Alderton. Foreign Affairs Minister Prof. G.L. Peiris, Secretary to the President Gamini Senarath, Chief Advisor Lalith Weeratunga, Defence Secretary Kamal Gunaratne, Foreign Affairs Secretary Aruni Wijewardane, Chief of Defence Staff General Shavendra Silva and Navy Commander Vice Admiral Nishantha Ulugetenna were also present at the discussion with the President.

Prime Minister Ranil Wickremesinghe too met with Minister O'Neil.

A statement from the PM's office said the visiting Minister expressed Australia's continued support for Sri Lanka and the Sri Lankan Government's efforts to stabilise the economy.

The Prime Minister explained that Sri Lanka was focussed on developing an export-oriented economy which would be opened up to investments from overseas.

Minister O'Neil said that the Australian Government was interested in promoting Australian investments in Sri Lanka, while also continuing to drive up Australian tourism to Sri Lanka. While explaining that her Government was preparing to develop its shipping lines, the Minister explained her administration's policy regarding maritime security and human smuggling.

The Prime Minister stated that the Sri Lankan Government and its security forces remained committed to ensuring a halt to human smuggling.

The Home Affairs Minister also extended an offer to assist Sri Lanka with restructuring and further developing the Department of Customs.

The Prime Minister extended his thanks to the Australian Government for providing a $ 50 million development-assistance package to Sri Lanka.