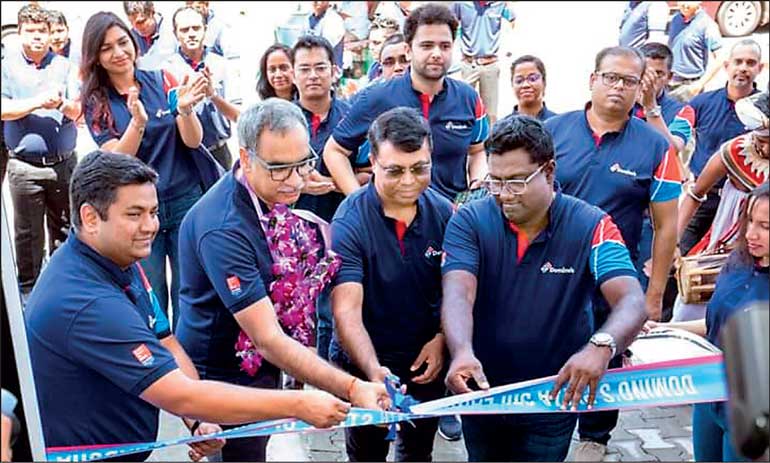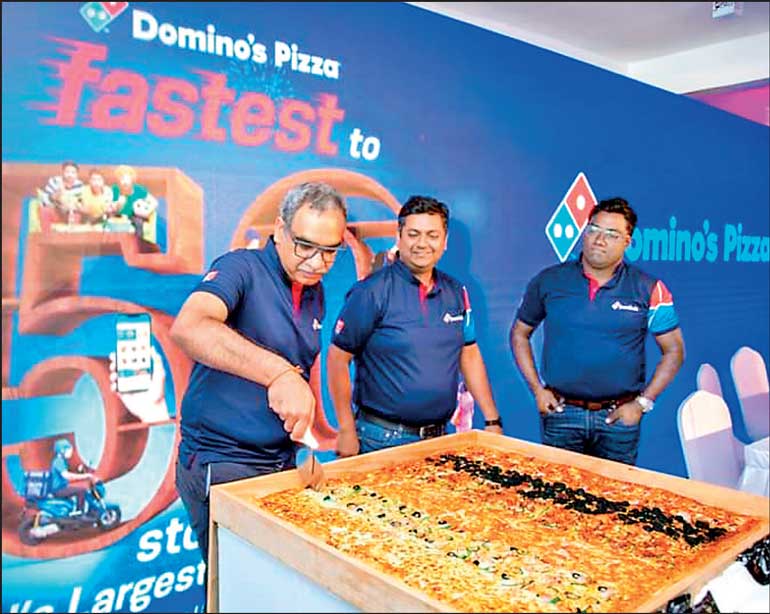 ---
World's largest pizza brand opens for customers in Panadura
Domino's Pizza, this week achieved a historic milestone when it opened its 50th store in Panadura, becoming the fastest QSR to reach this mark.

Since its launch in 2011, Domino's Pizza has rapidly expanded its presence, serving customers across the island with its diverse menu and unique offerings tailored to cater to local tastes and preferences.

Turning 50 outlets strong showcases Domino's unwavering commitment towards the country and signifies a monumental effort to delight pizza enthusiasts nationwide. This remarkable achievement stands as a testament to Dominos dedication in serving great-tasting pizzas with unmatched speed and convenience, making it a cherished part of Sri Lanka's culinary landscape.

Globally, Domino's is the largest pizza brand in the world, boasting a vast network of over 20,000 stores in more than 90 countries. Renowned for delectable pizzas, Domino's excels in delivering within its hallmark 30-mins delivery guarantee.

The grand opening of the 50th outlet was graced by the presence of Jubilant FoodWorks Ltd. CEO and Managing Director Sameer Khetarpa whose visionary leadership has played a pivotal role in driving Domino's Pizza's growth and success in the country.

Khetarpal expressed his delight and pride in the brand's growth journey in Sri Lanka, stating, "As a brand, we are wholeheartedly committed to our expansion in Sri Lanka, demonstrated by our position as the fastest-growing QSR. Our relentless dedication to delivering exceptional customer experiences and expanding our stores has propelled us to achieve the remarkable milestone of 50 outlets. We are excited about the future and are determined to delight pizza lovers across the country."

Jubilant FoodWorks Lanka Country Head and Director Iranga Dharmawardhana said: "At Domino's Pizza, we take pride in being a global brand with a strong local connect. Understanding and catering to local consumer tastes is vital for our success. We have developed unique toppings that resonate with our Sri Lankan customers, providing them with an authentic pizza experience. Moreover, our commitment to sourcing 55% of our materials locally reflects our dedication to contributing to the local economy and supporting communities in Sri Lanka."

With a diverse menu designed to cater to various tastes and preferences, the company offers options such as the budget-friendly Pizza Mania range as well as the traditional hand-tossed pizzas. For those who adore cheese, Domino's goes the extra mile with their delightful Cheese Burst and Cheese Float pizzas. While pizzas undoubtedly hold the spotlight, the Domino's menu presents a selection of signature sides and desserts that have garnered an unmatched fan following.

As Domino's Pizza Sri Lanka joyfully celebrates the opening of its 50th store, it reiterated its commitment to the local community. In the spirit of giving back, Domino's announced 5,000 meals to Child Action Lanka, a centre dedicated to empowering and sheltering underprivileged kids and women, to mark this milestone.