Scandal-plagued Deutsche Bank, Germany's biggest lender, Sunday announced a major business and management shake-up that would 'fundamentally change' its leadership structure.

The announcement came after Deutsche Bank this month braced employees for bonus cuts, announced its biggest quarterly loss in about a decade and warned that even dividends could be scrapped.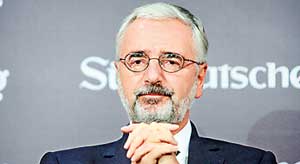 The bank has been undergoing a massive shake-up after its co-chief executives Anshu Jain and Juergen Fitschen resigned in June over a tangle of scandals and missed profit targets, replaced by new co-CEO John Cryan.

The investment and retail bank is mired in around 6,000 different litigation cases and was fined in May a record $ 2.5 billion (2.2 billion euros) for its involvement in rigging interest rates.

It has also faced probes by Swiss authorities for suspected price fixing on the precious metals market, and US investigators have looked at its Moscow branch on suspicion of possible involvement in money-laundering.

The Supervisory Board on Sunday resolved at an extraordinary meeting in Frankfurt to restructure executive committees and senior management. The guiding principle was 'to reduce complexity of the bank's management structure, enabling it to better meet client demands and requirements of supervisory authorities', the bank said in a statement.

"Deutsche Bank rarely underwent such a fundamental reorganisation in its history," said Paul Achleitner, Chairman of the Supervisory Board. "This also requires tough decisions."

Cryan said, "We want to create a better controlled, lower cost, and more focused bank that delivers long-term value to shareholders and great experiences to clients."

"The new structure and management team are essential to getting this done. I am delighted to welcome six new members to the Management Board to form the team that together will build a better Deutsche Bank."

In the shake-up the bank's corporate banking and securities unit (CB&S) will be split in two from 1 January – Corporate and Investment Banking and Global Markets, while there would also be changes in Asset & Wealth Management.

Among the management changes, Jeff Urwin, currently co-head of CB&S together with London-based Colin Fan, will join the management board, responsible for corporate and investment banking.

Stefan Krause will resign from the management board on 31 October and Michele Faissola, head of the asset and wealth management unit, will leave the bank after a transition period, Deutsche Bank said.