Standard Chartered Executive Director – Compliance Training for ASEAN and South Asia P. Ananthakrishnan (Ananth) was in Sri Lanka recently to conduct a session for over 35 Compliance Officers from 19 banks on the subject of '3Cs – Conduct, Compliance and Culture' under the auspices of the Association of Compliance Officers of Banks (ACOB).

Ananth is no stranger to the local compliance scene as this is the fifth year the country has had the benefit of his expertise and experience. The session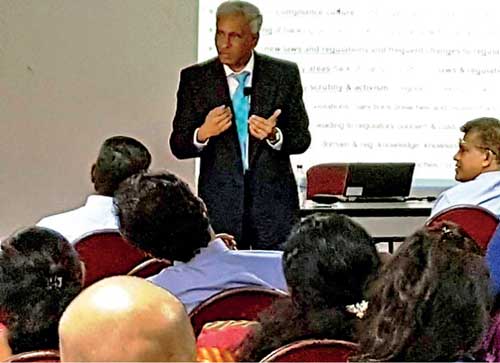 emphasised the 3Cs as the very foundation of every bank and the manner in which it carries out its business.

Standard Chartered, Sri Lanka Head – Compliance Inam Cassim commenting on the session said: "Standard Chartered has facilitated these knowledge sharing cum training sessions so that we may share the benefit of the expertise of our internal resource personnel with a greater audience. Conduct and culture are integral to a robust compliance environment and Ananth has a wealth of understanding in this area. We were delighted to host our industry counterparts to this session."

During the session, Ananth emphasised that the 3Cs – Conduct, Compliance and Culture, reiterated and reinforced the importance of doing the 'right thing', of constantly and consciously bringing integrity, honesty, ethics, transparency and the right behaviour to the table. Conduct risks encompass and impact an organisation as a whole, and must be clearly identified and dealt with at the earliest opportunity. Compliance is not limited to adhering to 'the letter' of policies and regulations but must also be observed 'in spirit'. It is essential to understand the objective, rationale and message behind the written words. Culture, Ananth stressed, is all about the 'tone from the top'. The behaviour and example set by the top management undeniably filters downward and sets the trend and quality of actions of an organisation. A 'forward-looking', anticipatory approach is critical towards identifying and addressing compliance risks.