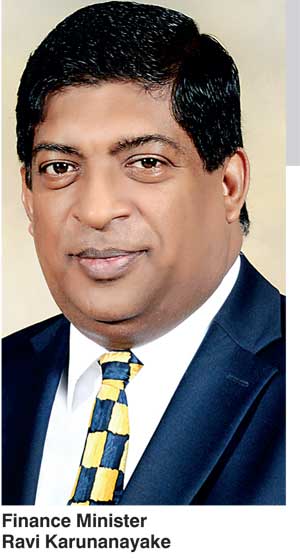 Charumini de Silva reporting from Yokohama Japan

Finance Minister Ravi Karunanayake yesterday said the Government is considering tapping into $ 1.5 billion in Japanese Samurai Bonds in the near future.

"At the moment it is just within striking distance," he said on the sidelines of the 50th ADB Annual Meeting in Yokohama, Japan.

Stating that it was the first time that the Japanese have come forward to give an underwriting of yen-denominated bonds equivalent to $ 1.5 billion, the Minister said they were considering it in the near future.

The Government spoke about the $ 1.5 billion Samurai Bond in February this year and was expecting to consider it in April. However, the Minister explained that due to the exchange loss Sri Lanka would have to take on a yen to US dollar swap, which they had to discuss further.

"When the $ 1.3 billion Samurai Bond was offered as a yen loan, we had to consider a yen to US dollar swap, which goes well beyond our cost. At that point in time, we were in a situation where we could go for a Sovereign Bond at a rate of 6% for 10 years.

Therefore we had to consider receiving it at a rate of 9%," he added.

The Minster said that they had to further discuss reasoning the cost issues and managed to get a significant reduction in the insurance cost.

"We have now asked them to take the swap and come to us rather than we take it. We want to borrow cheaper yen, but at the repayment with the appreciation we might lose it," he noted.

A Samurai Bond is a yen-denominated bond issued in Tokyo by non-Japanese companies and is subject to Japanese regulations.

These bonds provide the issuer with access to Japanese capital, which can be used for local investments or for financing operations outside Japan.

"We thought it would be better to consider this opportunity now because the Japanese yen's interest rate is low. If we can get our ratings improved then this would be a meaningful approach," Karunanayake added.

The Minister said that the facility will not necessarily be used to repay debts and could be used for different purposes upon approval.