By Wealth Trust Securities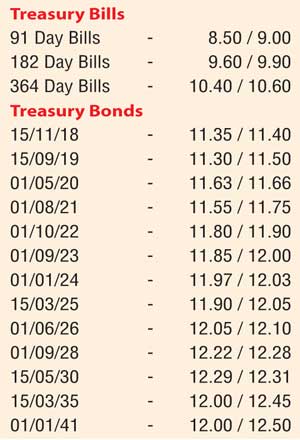 The weighted averages at yesterday's Treasury bond auctions were seen decreasing on the 2.06 year maturity of 15.11.2018 and the four-year maturity of 01.05.2020 by two basis points (bp) and 03 bp respectively to 11.51% and 11.75%.

The weighted average on the 6.05 year maturity of 01.10.2022 was seen remaining steady at 11.98% while the 7.08 year maturity of 01.01.2024 recorded an average of 12.07%. All four maturities drew Rs. 21.70 billion in successful bids against its total offered amount of Rs. 19 billion.

In the secondary bond market yesterday, activity centered on the four auctioned maturities of 15.11.18, 01.05.20, 01.10.22 and 01.01.24 as it was seen changing hands within the range of 11.35% to 11.40%, 11.60% to 11.65%, 11.80% to 11.90% and 11.97% to 12.00% respectively subsequent to the auction outcome.

In money markets yesterday, the liquidity in the system stood at a net surplus of Rs.8.93 billion with an amount of Rs.25.76 billion being deposited at the Standing Deposit Facility Rate (SDFR) of 6.50% against an accessed amount of Rs.16.83 billion at its Standard Lending facility rate of 8.00% (SLFR). The overnight call money and repo rates remained mostly unchanged to average 8.15% and 7.99% respectively.


Rupee loses ground marginally

The USD/LKR rate on the active spot next contract depreciated marginally yesterday to close the day at Rs.146.35/40 against its previous day's closing level of Rs.146.25/30 on the back of importer demand. The total USD/LKR traded volume for 11May was $ 77.25 million.

Some of the forward USD/LKR rates that prevailed in the market were one month – 147.05/15; threemonths – 148.55/65; and six months – 150.85/10.