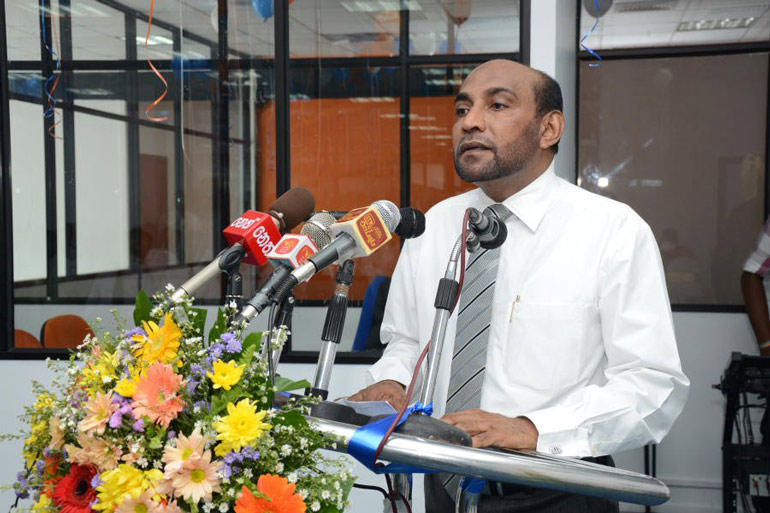 Chief Executive Officer K.M.M. Jabir
Richard Pieris Finance Ltd., the youngest finance company in Sri Lanka, has shown 300% growth in net profit after taxation, according to its Chief Executive Officer K.M.M. Jabir.

"We complete our second financial year on 31 March 2015. We, being the youngest finance company in Sri Lanka, are really overwhelmed by the fact that our profit after tax growth has reached Rs. 200 million, which is a 300% growth from our first year of operations. Also our asset base has crossed Rs. 7 billion at present. Meanwhile, our deposit base has crossed Rs. 2 billion and the customer base has gone beyond 4,000," said Jabir.

The number of employees at Richard Pieris Finance Ltd. is more than 100 and all in all we observe a dynamic growth of the company, he said.

"The current financial year is again challenging and we are awaiting the implementation of the policies of the new government, which has been formed only a few months ago, with our customers awaiting the new economic policies being implemented and we hope for a positive economic growth. As a financial institute we expect to make use of those opportunities," said Jabir.

Elaborating, he said that as a new finance company, they have already begun their branching out operations with the opening of the first branch in Matara on 1 September and the process of opening of other new branches that will now continue. Altogether, there will be eight branches across the country. The next branch will be in Borella. The whole network will be completed within the next financial year, said Jabir.

Commenting on the benefits to their customers, Jabir said that Richard Pieris Finance offers its customers, very competitive rates with a better quality service.

"The benefits and services will further improve as we progress more in the coming years," said the CEO.

"We are planning to launch new products, taking the market demand into account. We have successfully performed a blood donation CSR project with highly commendable achievements and we also have several welfare programmes for our employees. We have also undertaken a series of training programmes conducted both in-house and outside to enhance the quality of our employees and their personnel development, leadership qualities, language and communication skills," noted the CEO.

Commenting on the customer response, Jabir said the response is very positive. "Day by day the customer base is increasing which speaks about our growth in this short period. The satisfaction of our customers is reflected in the growth of our business. We continue to recruit quality people to man our branches," said the CEO.

Expressing his views on the challenges, Jabir said, it's the competition and the interest rates. The present economic environment is a challenge. We are watching in which direction it is going to move and we are expecting a positive growth and we are getting ready to capitalise on the opportunities that are going to emerge," he said and added that all customers are expecting a positive change in the business environment.

It is noted that the positive change would stabilise the market environment, even the Governor of the Central Bank has also announced that they would keep the interest rates at the same level. Another interesting development is that the Prime Minister Ranil Wickremesinghe visited India and Japan and it is said that those Governments as well as Western countries have committed to provide loan facilities at cheap cost to Sri Lanka and if that takes place, the interest rates would not go up.

"It is too early to comment on that," said Jabir.