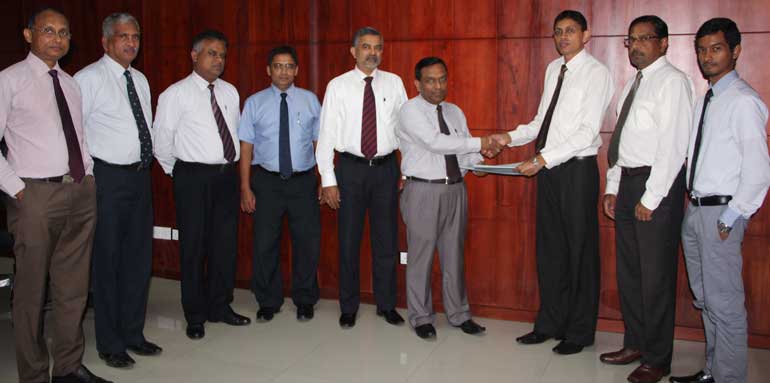 RDB GM/CEO T.A. Ariyapala and MTI Consulting Head of Operations Kapila Liyanage exchange consulting agreements at the signing ceremony accompanied by Chairman Prasanna Premaratne, corporate management members of RDB, MTI's Senior Associate Consultant Manilka Fernando and the RDB and MTI officials
Regional Development Bank (RDB) – the largest development bank in the country, has selected international boutique consultancy – MTI, to research and develop its five-year Corporate Plan (2016 – 2020) with the view of further strengthening the rural economy of Sri Lanka.

RDB is established with the primary objective of improving living standards of the rural masses and is currently serving over five million customers through an island-wide network of 266 branches and 19 district offices administrated via seven provincial offices.

T.A. Ariyapala, the General Manager/CEO of RDB, stated: "The Corporate Plan, developed based on MTI's internationally-acclaimed 8S model will strategise and direct RDB to reach new heights. The key focus would be on creating a customer centric and performance oriented culture while tapping into new opportunities in the rural economy. The process with MTI will include defining the scope for RDB, an intensive scan of the internal and external environment, setting sights and strategising followed by the alignment of structure, staff and systems. Social responsibility and sustainability direction will also be an integral part of the planning exercise."

Hilmy Cader, Bahrain-based CEO of MTI Consulting, added: "We are delighted to be selected by RDB and are keen to work with the RDB management team to analyse, strategise and enable RDB to realise a profitable business solution while achieving its very purpose of serving the rural development."

Since its inception in 1997, MTI Consulting has worked with over 40 banks and financial institutions across the Middle East and Asia. This included assignments with global institutions such as HSBC, Standard Chartered, AXA, Citibank, and regional institutions such as Arab Re-insurance Group, Bahrain Islamic, ORIX and the Sri Lankan based BOC, HNB, LOLC, NSB, Seylan Bank and People's Bank.

With experience on over 550 assignments in 42 countries, MTI Consulting's practice consists of core Business Strategy expertise augmented by expertise in Corporate Finance, Human Resource Management, Market Research and Technology Advisory.