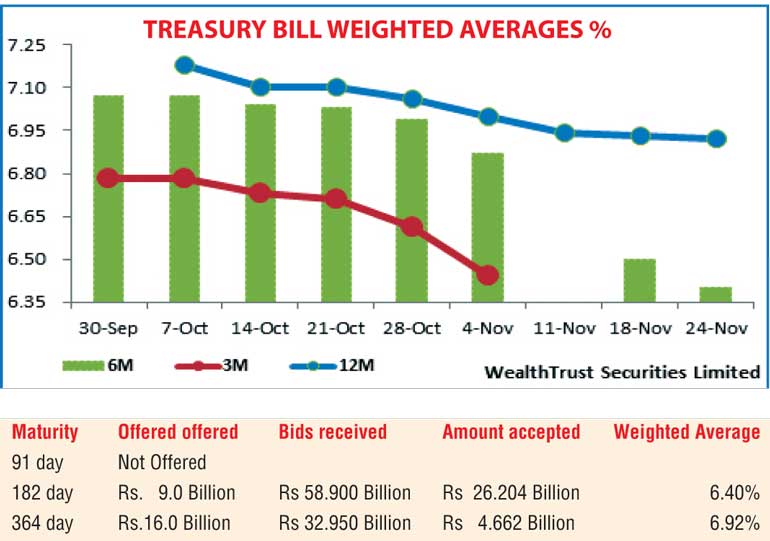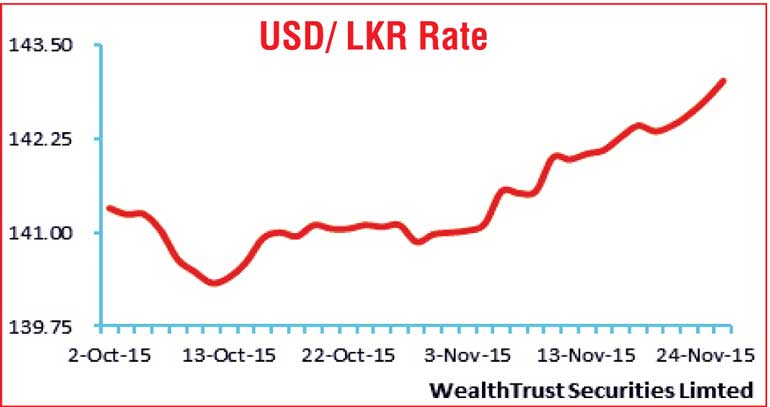 By Wealth Trust Securities

In primary markets, continuing with the recent trend the weighted averages at Tuesday's weekly Treasury bill auction dipped further for a seventh consecutive week.

The 182 day bill continued to dominate the auction, as its accepted amount nearly tripled its offered amount with its weighted averages dipping by a further 10 basis points to an 18 week low of 6.40%. The weighted average on the 364 day bill dipped by 01 basis point to 6.92%. A total amount of Rs.30.8 billion was accepted at the auction against its initial total offered amount of Rs.25 billion.

In secondary bond markets, the decreasing trend in yields witnessed during morning hours of trading was seen reversing towards the latter part of the day. Yields on the 15 September 2019, 1 May 2020, 1 August 2021 and 1 October 2022 maturities were seen hitting intraday lows of 8.85%, 8.98%, 9.10% and 9.35% respectively before moving up to levels of 8.95%, 9.00%, 9.15% and 9.40% once again.

Furthermore on the short end of the yield curve, August and September 2016 maturities were seen changing hands within the range of 6.55% to 6.75% while 15 July 2017 changed hands within the range of 7.40% to 7.50%. In secondary market bills, the 182 day and 364 day maturities were quoted at levels of 6.30/40 and 6.80/90 respectively post auction.

In money markets, the overnight repo rate decreased further to average 5.90% as surplus liquidity remained high at Rs.149.56 billion. The overnight call money rate remained steady at 6.31%.

Rupee drops further

to hit a fresh low

The rupee on spot contracts depreciated further to hit a fresh low of Rs.143.00 Tuesday and closed the day at Rs.142.95/10 in comparison to its previous day's closing levels of Rs.142.70/85. The total USD/LKR traded volume for 23 November was $ 72.19 million.

Some of the forward USD/LKR rates that prevailed in the market were: one month – 143.30/45; three months – 144.20/30; and six months – 145.45/55.