Rupee continues to appreciate on the back of expected dollar inflows
By Wealth Trust Securities

The positive momentum in secondary bond markets continued yesterday as well with secondary market yields dipping for a third consecutive day on the back of sustained buying interest. Activity was mainly seen on the liquid maturities of 01.08.21, 01.07.22, 01.09.23 and 15.03.25 as its yields dipped to intraday lows of 8.80%, 8.95%, 9.05% and 9.12% res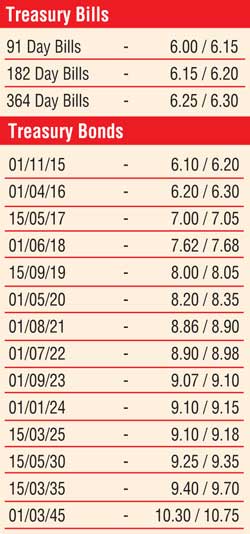 pectively against its days opening highs of 8.85%, 9.00%, 9.13% and 9.20%. In addition, a limited amount of activity was witnessed on the 01.06.2018 and 01.05.2021 maturities within the range of 7.64% to 7.66% and 8.85% to 8.95% respectively.

Meanwhile in money markets, overnight call money and repo rates remained steady to average 6.10% and 5.79% respectively as surplus liquidity dipped further to Rs.57.10 Bn yesterday. Rupee appreciates further The Appreciating trend in the USD/LKR rate continued yesterday as well by 10 cents to Rs 133.70 on the back of a further US $ 327 million raised through Sri Lankan Development Bonds (SLDB). The total USD/LKR traded volume for the 24th of June 2015 was US $ 43.30 million. Some of the forward dollar rates that prevailed in the market were 3 Months - 135.25/45 and 6 Months - 136.85/05.
---
Bourse slips from one-week high, led by Nestle Lanka, Keells
Reuters: Sri Lankan shares fell on Thursday from the previous session's one-week high, led by Nestle Lanka Plc and market heavyweight John Keells Holdings Plc due to political uncertainty ahead of the announcement of parliamentary polls.

The main stock index ended 0.32 percent, or 22.50 points, lower at 7,031.33.

Turnover stood at 628.1 million rupees ($4.7 million), well below this year's daily average of about 1.1 billion rupees.

"The market continued its downtrend, ending the day on a negative note, with institutional and high networth investors dominant," TKS securities said in a note to investors.

Nestle Lanka fell 2.40 percent, while conglomerate John Keells fell 0.49 percent. Keells said in a disclosure to the bourse that its subsidiary Waterfront Properties (Private) Ltd had finalised a $395-million syndicated project development facility with Standard Chartered Bank for debt financing of its luxury real estate project. The market saw net foreign outflow of 166.2 million rupees on Thursday, extending net foreign outflows in the past 22 sessions to 3.63 billion rupees in stocks. Investors were confused due to a lack of direction on interest rates, economic policies, and on the timing of the parliamentary election, analysts said.

President Maithripala Sirisena has said he will dissolve the parliament once some crucial reforms, including an electoral bill, are passed, but is yet to fix a date for the election.