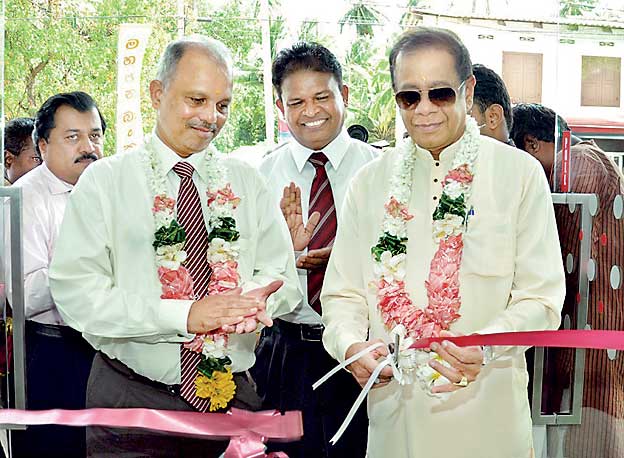 People's Bank Chairman Hemasiri Fernando cutting the ribbon at the auspicious time declaring the Kodikamam branch open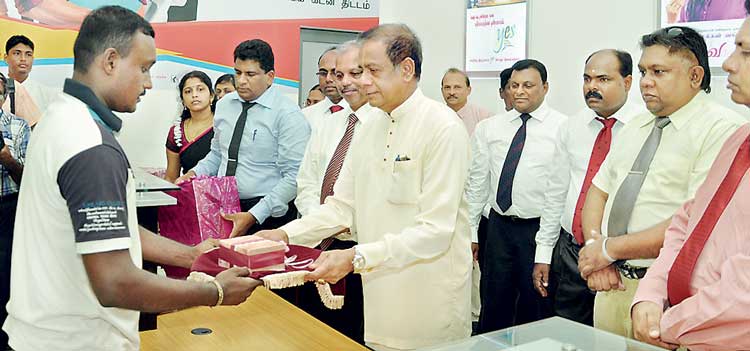 People's Bank Chairman Hemasiri Fernando accepting deposits from the bank's customers
People's Bank recently declared open its modern Kodikamam Branch at a ceremonial unveiling amidst the presence of People's Bank Chairman Hemasiri Fernando.

Conveniently located in the vicinity of the Kodikamam Railway Station, the new Kodikamam Branch offers state-of-the modern banking facilities, enabling efficient and professional financial services for the benefit and welfare of their customers. Residents of the area can now conduct all their banking needs including loan facilities, pawn broking services and access to a 24-hour ATM.

Among those present at the opening ceremony were Director – Planning Vijaya Samarasinghe and Additional General Manager Nalaka Bandara of the Railways Department along with People's Bank Directors Chrishmal Warnasuriya, Felician Perera and Sanjaya Galaboda, CEO/General Manager, People's Bank N.Vasantha Kumar, CEO/GM, People's Leasing & Finance PLC D. P. Kumarage, Head of Marketing and Public Affairs Deepal Abeysekara, Deputy General Manager (Branch Operations) Boniface Silva and Deputy General Manager (Banking Support Services) Mahinda Premanath.

People's Bank Jaffna Regional Manager K. Susendran, Asst. Regional Managers N. Nageswaran and R. Ravikaran and Branch Manager K. Malevan also graced the opening of the new branch together with a large representation of the banks customers and well-wishers.

Located in close proximity to the Nothern 'Yal Devi' railway line and the Kodikamam Railway Station brings great significance as the restoration of the Railway Station was an initiative by People's Bank as a part of their commitment to establish community well-being through its corporate social responsibility program.