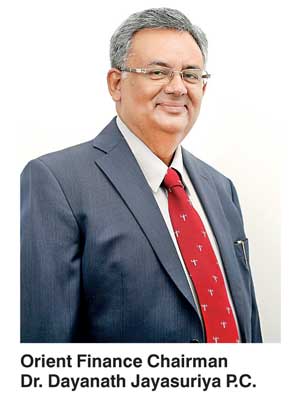 With over 35 years of trust and stability in the financial services sector, Orient Finance PLC recorded a commendable growth for the financial year ended 31 March with Profit Before Tax (PBT) indicating a substantial increase over the previous year.

PBT for the 12 months ended 31 March, rose to Rs. 296 million while the Profit After Tax (PAT) rose impressively to Rs. 607 million.

Turnover for the year ended 31 March improved to Rs. 2,363 million from Rs. 1,362 million in the corresponding period of 2014/2015.

Commenting on the company's performance, Chairman Dr. Dayanath Jayasuriya P.C. noted, "The year under review has been a landmark year for Orient Finance, as it began to reap the rewards of many synergies and economies of scale of the merger with Bartleet Finance, which was implemented during the period 2015/2016."

He went on to add, "We have now reached a new level of growth and are well poised to harness the synergies and many new opportunities that we foresee in the environment. We are confident that the company will continue on its growth trajectory, enhancing value for all its stakeholders."

Orient Finance PLC is the amalgamated entity of Orient Finance PLC and former Bartleet Finance PLC.

With this amalgamation, the total assets of the company as at 31st March, 2016 stood at Rs. 17 billion - an increase of 151% over the previous year's figure of Rs. 6.8 billion.

The company's deposit base also increased from Rs. 5.7 billion to Rs. 9.2 billion. This is largely attributed to the company's reputation, stability, friendly and flexible customer service.

Orient Finance operates 25 branches with five collection centres covering major towns of the country including Northern and Eastern provinces.

Commenting on the future outlook of the company, CEO Mayura Fernando said, "We have planned to grow at a faster pace over the next few years. Our reach to our customer base will improve through multiple channels of distribution. Product innovation and delivery excellence will enhance the customer experience, further differentiating us from competition. Above all, our focus on customer needs and building a winning team that will exceed their expectations will put us in a unique position in the financial services industry."

The Board of Directors comprise Dr. D.C. Jayasuriya P.C. (Chairman), Prakash Schaffter, Ramesh Schaffter, Ananda Atukorala, Lakshmi Gunetilleke, Anil Tittawela, Minette D. A. Perera, Indrajith Fernando and Indrani Goonasekera.