Standing from left: Senior Banking Associate Iresha Karunaratne, Assistant Manager Chamari Ariyadasa, COO Rohan Muttiah, Vice President Administration and Services Mancius Paiva, CEO Rajendra Theagarajah, Group CFO Faizan Ozman, Branch Manager Charitha Serasinghe and Regional Manager Sydney Downall
NDB marked its presence within the bustling street of Marine Drive offering a wide range of financial services to a rapidly growing commercial area.

Marine Drive is lively with constant buzz and bustle. It's a hub of trade and hospitality. This plush branch is situated alongside the much visited hangout spots in Colombo. The branch faces a panoramic view of the blue ocean and sets a pleasant and welcoming sentiment to all who makes a visit.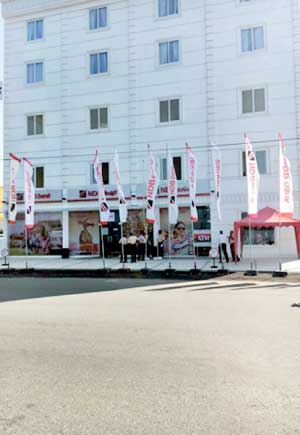 The strategic location of this branch totes many opportunities that propel the economic development of this area. The area is also home to many entrepreneurs and businessmen. Simply put, Marine Drive is set for rapid economic growth. NDB stepped into Marine Drive with a range of unparalleled products and financial expertise to impel the area towards the zenith of economic development, consistent with the modern times.

NDB will offer a gamut of retail banking products including current/savings accounts, fixed deposits, housing loans, mobile banking, pawning services, vehicle leasing as well as insurance Services to the residents of the area to help them grow and secure their wealth while enjoying easy access and convenience of Banking with automated facilities such as Visa Debit Cards, Internet Banking and Western Union Money Transfer Services.

NDB's new branch will be offering SME products to potential small and medium businessmen in support of the development activities in Marine Drive. With its expertise and knowledge in SME financing services, the Bank will offer many financing facilities including short term working capital loans, supplier and distributor financing and long term funding, which will be beneficial to the businesses in the area.

The branch was declared open by NDB's CEO Rajendra Theagarajah along with the patronage of the Senior Management of the bank as well as valued customers from the area.

NDB's Marine Drive Branch is located at No. 42, Sagara Road, Marine Drive, Colombo 4 and will be open for business from Monday to Friday from 9 a.m. to 4 p.m.