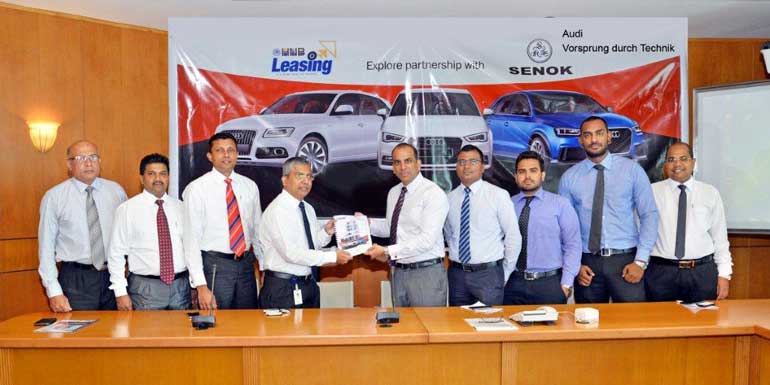 From left: HNB Manager – Leasing Jeewantha Perera, HNB Manager Business Development – Leasing H.M. Aziz, HNB Senior Manager – Leasing Kanchana Karunagama, HNB Head of Personal Financial Services B.V.F. Mendis, Senok Automobile Director Sales and Marketing Rajieve Fernando, Senok Automobile General Manager Trevine Stainwall, Senok Automobile Assistant Sales Manager Taariq Mohamed, Senok Automobile Senior Sales and Marketing Executive Sanka Manampery and Audi Service Centre Assistant General Manager Jaya Seelan
For the first time ever, Hatton National Bank (HNB) PLC has joined hands with Senok Automobile Ltd., to offer an unmatched leasing package to buyers of Audi cars.

This landmark partnership between the premier bank for leasing and the sole agent for Audi in Sri Lanka will offer a tailor-made package with unbeatable benefits and value additions to all customers who purchase brand new Audi cars through HNB Leasing. This special package includes a life insurance cover worth Rs. 2 million, an HNB credit card with the first year annual fee waived off and exciting options such as Residual Value/Flexi Plan, Top Up/Enhance, Cash Back and My Dream.

This tie-up ensures that the customer receives maximum benefits as he or she is assured of superior quality from Senok Automobile and unmatched leasing offers from HNB. In addition to the value for money, quality and reliability are guaranteed by this offer, HNB staff is on hand to provide a highly efficient service to leasing customers who visit its extensive network of 249 HNB Customer Centres around Sri Lanka.

Owned and manufactured by the German automobile giant Volkswagen with strict adherence to the rigorous standards demanded by the German automobile industry, Audi is the flagship brand of SENOK Automobile and a market leader of European cars. The primary objective of this joint promotion is to provide customers the opportunity to own a world class vehicle by combining the strengths of both companies.

Appointed as the Sole Agent for Audi in Sri Lanka in 1997, SENOK's dependability and superior after sales service have positioned Audi as one of the bestselling luxury automobiles in the country with a strong market share in the premium brand segment. HNB was the first bank to offer leasing in Sri Lanka in 1990 and celebrates the 25th anniversary of that pioneering effort this year as the undisputed market leader.

Hatton National Bank has been awarded by the Asian Banker Magazine as the 'Best Retail Bank in Sri Lanka' for seven years for its performance from 2007 to 2012 and in 2014 and named as the 'Bank of the Year in Sri Lanka' for the year 2012 and 2013 by the Banker Magazine of UK. In 2012 HNB became the first Sri Lankan bank to obtain an international credit rating and was assigned a foreign currency issuer rating of B1 on par with the sovereign rating by Moody's Investors Service, while it has a national long term rating of AA- (lka) by Fitch Ratings (Lanka) Ltd.

Senok Automobile is the sole agent in Sri Lanka for globally reputed automobile brands; Audi, Volkswagen and Subaru. In 1990, Senok commenced business in the automobile industry; being appointed the sole distributor for Subaru in Sri Lanka and in 2005 Senok was awarded the Volkswagen franchise. Today Senok markets a range of vehicles from mid-size sedans to luxury SUVs.