The national payment network operator, LankaClear Ltd., has been certified ISO27001:2013 Information Security Management Systems compliant for process and assets of LANKASIGN Certification Service Provider.

LANKASIGN is the brand of LankaClear under which web and digital security services are offered to the market. As a Digital Certification Service Provider (CSP) LankaClear provides the most secured cryptographic solutions through LankaSign.

The ISO27001 certification provides a framework for assessing aspects of information security related to security policy, management of information assets, human resource security, physical and environmental security, communications and operations management access control, acquisition and maintenance of information systems, information security incident management, business continuity planning and compliance.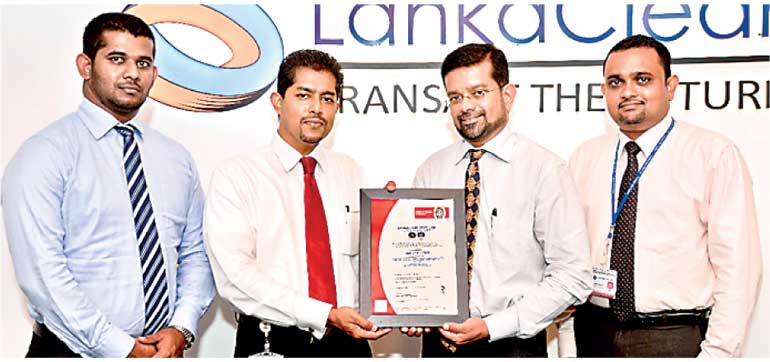 The certificate being awarded to LankaClear GM/CEO Sunimal Weerasooriya by Bureau VERITAS Lanka General Manager Shan Nanayakara. From left: Bureau VERITAS Asst. Manager – Sales and Marketing Gayan Balachandra, Bureau VERITAS General Manager Shan Nanayakara, LankaClear GM/CEO Sunimal Weerasooriya and LankaClear Manager IT Security Solutions Duleep Liyanage


Commenting on the certification LankaClear GM/CEO Sunimal Weerasooriya said: "As the company that processes the bulk of the retail payments within the country, the ISO27001 certification is an achievement for LankaClear, which confirms our continued commitment in maintaining the highest standards of security on the national payment infrastructure we operate. Every single financial message that flows through our service platform deals with money and as we push towards payment digitalisation, we believe that information security will be a vital factor that provides confidence to all users in making best use of the futuristic payment technology we offer."

Bureau Veritas Lanka GM Shan Nanayakara, who handled the independent audit of the certification compliance, said: "I would like to congratulate the management of LankaClear and all those involved in this collective effort. Your achievement will make a positive difference in developing the objectives of LankaClear. The ISO 27001:2013 standard provides a robust model for information security risk assessment and security design, implementation, and management. With its comprehensive approach that takes into account threats, vulnerabilities, and impacts, the standard helps to ensure the adoption of appropriate security controls that protect the information of the company, customers and other stakeholders. Being certified to ISO 27001 will not only help LankaClear to manage and protect its valuable information assets but will enhance its reputation by demonstrating to customers that the security of their information is paramount."