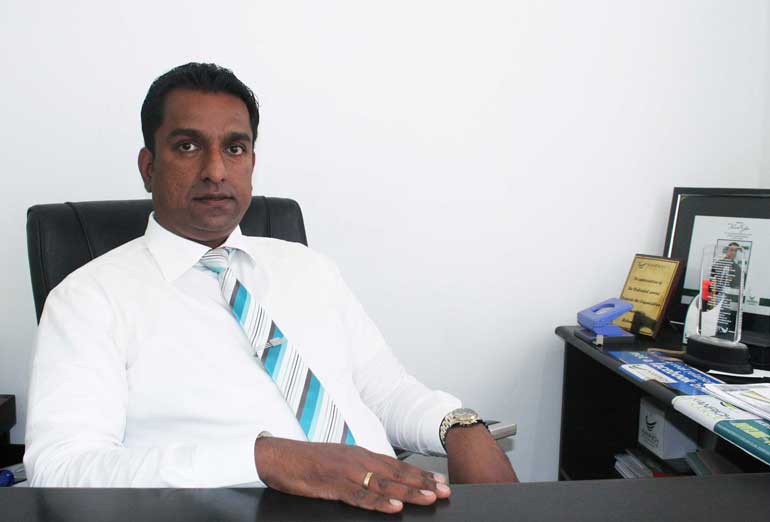 Kanrich Finance General Manager Aloka Wahalawatta
Kanrich Finance, which has won the lasting trust of the public, has recently expanded its business activities by introducing to the market an entirely fresh form of leasing service.

Taking the field of leasing to a new dimension, Kanrich Finance has introduced a hotline (0115-333333) exclusively for leasing. Through this initiative, KFL Leasing provides customers the unprecedented convenience of being able to get down a representative of Kanrich Finance to their presence, to solve their leasing needs instantly.

Kanrich Finance has achieved the position of a pioneer in the field of finance enterprises, by upgrading business concepts, prioritising the customers' convenience and flexibility, as a financial institution, by recognising the needs of customers through thinking of customers' perspective.

Kanrich Finance General Manager Aloka Wahalawatta stated: "We provide vehicle insurance to our customers entirely free in the first year, without any hidden charges. In addition, all the customers receive accident insurance coverage up to 1.5 million. We have given you the opportunity to experience unprecedented service, with the least amount of documentation. That is not all. Kanrich Finance has given you the opportunity to be the owner of a vehicle just in one day."

As Wahalawatta explained, Kanrich Finance is ready to provide a convenient leasing service, whether the vehicle is unregistered or registered. A potential customer can enter into a preliminary agreement with Kanrich Finance to enable him to continue paying the monthly leasing installment that is suitable for the customer's income and his future money flow. This is an unparalleled characteristic of KFL Leasing services.

Through the schemes provided by KFL, even small entrepreneurs and self-employed persons who earn a considerable daily income can enter into an agreement with Kanrich Finance and can turn their vehicle-dream, into reality. By providing this opportunity, Kanrich Finance Leasing has been able to win the hearts of the customers, as an indigenous finance institution that transacts business with a human touch.

The latest feature introduced by KFL Leasing service is the pre-approved loan system. Those customers who register with Kanrich Finance expecting to receive leasing assistance, can get a pre-approved loan through which the customers can activate their leasing facilities immediately after selecting the vehicle of their preference. These facilities are readily provided. Instead of following the usual routine of obtaining leasing facilities after selecting the vehicle, through this process they can get their leasing services even before selecting the vehicle. This enables them to realise their dreams with the least effort.

Kanrich Finance has made arrangements to provide leasing facilities within the car sales itself, and for those interested in a leasing facility Kanrich Finance is ready to cater their demand at any given day of the week.

Further by comparing with the industry among Sri Lanka, Kanrich Finance offering competitive rates, courteously with the fast service to the customers. The real foundations of these competitive skills are the managerial vision and the special efficiency of their services.

Kanrich Finance Leasing has provided specialised training in customer-relations to all its staff-members, ranging from the higher managers who are dynamic and well-equipped with an adept awareness of the specific field, down to the front line officers who constantly meet the customers. Their innovative approach and their awareness of this field, both at local and international levels, will always strengthen the customers who seek the assistance of Kanrich Finance.

Wahalawatta added: "We are constantly sensitive, to the convenience of our customers. In that state of mind, we go to the customers speedily instead of getting them to the door step of services. We fulfill all their needs, providing them relief and concessions. We are enriched with specialised and optional solutions, dedicated to making you realise your dream of acquiring a vehicle. With a total awareness of the mind of the customers, we have fully committed to providing of courteous after-sales services.

Kanrich Finance Ltd. is a finance company registered with the Central Bank, and has won the undiminished trust and attraction of the customers for 44 long years.