HNB Assurance PLC (HNBA), a fully owned subsidiary of Hatton National Bank PLC (HNB), recorded a 17% growth in its topline, achieving a Gross Written Premium (GWP) of Rs. 3.1 billion over the first half of 2016. HNB General Insurance Ltd. (HNGI), a subsidiary of HNBA, too, showed a significant growth during the period.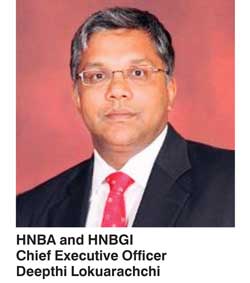 This growth was triggered mainly by the Life Insurance business, which saw its premium income surge by 28%, recording a GWP of Rs. 1.6 billion, driven mainly by a 34% increase in endowment policies, while MRP and other single premium policies recorded growth as well. HNBGI saw its GWP grow by 5.8%, generating Rs. 1.5 billion. Motor Insurance continues to be the dominant contributor accounting for 70% of GWP.

The total assets of the Group surpassed the Rs. 13 billion mark reaffirming its financial stability.

The Life Fund of HNBA increased to Rs. 7.9 billion while the General Insurance Contract Liabilities stood at Rs. 2.1 billion.

The Group recorded a PAT of Rs. 40.8 million in the first half of 2016. Sharing his views, HNBA and HNBGI Chief Executive Officer Deepthi Lokuarachchi stated, the company's financial results demonstrate its commitment to maintain the growth momentum even in the backdrop of a fiercely competitive and a challenging business environment.