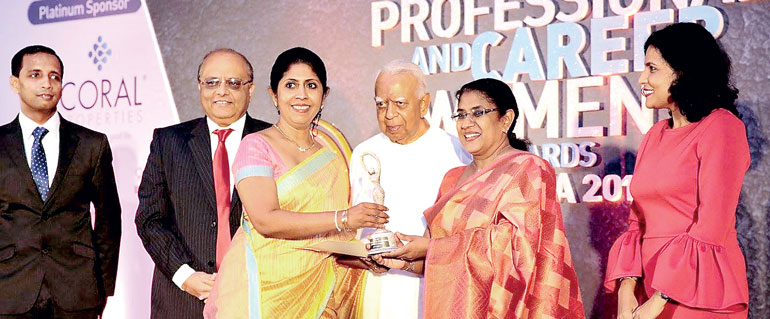 Sampath Bank announced that Shashi Kandambi Jassim, Senior Deputy General Manager – Corporate Banking, has received the Gold award in the Banking and Finance category at the 'Top 50 Professional and Career Women Awards' held recently.

Kandambi Jassim received this award in recognition of her outstanding achievements and exemplary leadership during her long banking career.

"Congratulating Shashi Kandambi Jassim on being honoured at this forum on behalf of the bank, I am proud to note that she represents the innumerable women across Sampath Bank and the country who continue to excel and contribute to our growth and success," said Sampath Bank PLC Managing Director Nanda Fernando. "Right from our inception, we have focused on ensuring that all members of the Sampath Bank family are treated equally, without any bias based on gender or otherwise. We believe that this has helped us nurture greater diversity within the Bank which in turn allows us to better relate to the varied needs of our customers and respond more empathetically."


Organised by Women in Management (WIM) in partnership with IFC (a member of the World Bank group), the 'Top 50 Professional and Career Women Awards' highlight and honour women in the national and regional economy and celebrate their achievements, experience and creativity in leading institutions, professions and businesses in an efficient and effective manner. 50 leading ladies from a diverse mix of industries were recognised across the 'Career', 'Professional', 'Business' and 'Organisational' categories at the seventh annual awards ceremony this year.

"I'm honoured to be recognised by WIM and IFC at the 'Top 50 Professional and Career Women Awards'. This achievement wouldn't have been possible without Sampath Bank's commitment to being an employer which practices true meritocracy. The opportunities afforded to me by my bank and the knowledge and experience gained over the years have brought me to this position today. The diversity within the team and in the mix of industries that our clients represent has allowed me to acquire a vast wealth of knowledge. And I have had the fortune of sharing this knowledge with clients, colleagues and society at large, playing at least a small role in their success stories," said Kandambi Jassim.

Having joined Sampath Bank in 1989, Kandambi Jassim has over 28 years of varied and extensive experience in the Banking sector, all at Sampath Bank. She holds a Masters in Business Administration from the University of Sri Jayewardenepura's Postgraduate Institute of Management. She has also received leadership training at the Harvard School of Business. She is the immediate Past President of the Association of Professional Bankers Sri Lanka, a role in which she initiated several programs to nurture young talent entering the banking sector and shape them into able banking professionals.