By Wealth Trust Securities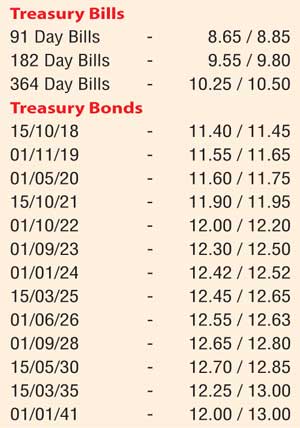 The secondary market bond yields continued to increase for a second consecutive day as local selling interest was seen outpacing foreign buying interest yesterday. The liquid maturities of 01.01.24 and 01.06.26 were seen increasing to intraday highs of 12.45%, and 12.62% respectively against its days opening lows of 12.43% and 12.57%. Meanwhile on the long end of the yield curve, the 01.09.28 and 15.05.30 maturities were seen changing hands within the range of 12.65% to 12.70% and 12.70% to 12.75% respectively while on the short end, the 15.10.18 and 15.10.21 maturities changed hands at levels of 11.40% to 11.42% and 11.86% to 11.90% respectively as well.

Meanwhile in money markets yesterday, overnight call money and repo rates remained mostly unchanged to average 8.17% and 8.07% respectively as the Open Market Operations (OMO) department of Central Bank was seen injecting an amount of Rs.5 billion by way of a reverse repo auction at weighted average rate of 7.96%.

The rupee remains mostly unchanged

Meanwhile in Forex markets, the active one week forward contract remained mostly unchanged yesterday to close the day at Rs.145.50/60 as spot and spot next contracts remained inactive. The total USD/LKR traded volume for 15 June was US $ 75.70 million.

Some of the forward USD/LKR rates that prevailed in the market were 1 Month - 146.00/20; 3 Months - 147.55/70 and 6 Months - 149.60/80
---
Rupee 1-week forwards edge up; dollar demand weighs
Reuters: Rupee one-week forwards ended slightly firmer on Thursday amid dollar demand by importers and foreign investors, even as the central bank cut the dollar selling rate for the spot currency, dealers said.

The central bank reduced the spot rupee's peg to 144.50 per dollar, from 144.75 in the previous session, although the spot rupee was not traded for a third straight session on Thursday, dealers said.

On Monday, the spot closed at 144.85/95 per dollar.

The spot rupee has been pegged down from 145.75 levels in early June after the local currency rose sharply following increased dollar conversions by exporters and overseas funds.

"Foreign buying in local bonds has been slow this week. I think foreign investors see the rupee has been overvalued at these levels," a currency dealer who deals with foreign bond buyers told Reuters.

One-week dollar/rupee forwards, which have been acting as a proxy for the spot rupee in the absence of trade in three-day forwards on Thursday, closed at 145.35/60 per dollar compared with Wednesday's close of 145.50/60.

Dealers said the central bank was intervening in the market to keep the rupee up. Central Bank officials were however not available for comment.

"The exporter conversions we saw last few days has reduced and the demand (for dollars) is there," another currency dealer said, asking not to be named.

The foreign exchange market also shrugged off improved quarterly growth data as the growth was not driven by exports, dealers said.

Sri Lanka's first-quarter growth rose to 5.5% year-on-year, more than double the growth recorded in the previous quarter, helped by a recovery in the construction sector, data from the state-run statistics department showed on Wednesday.

Three-day dollar/rupee forwards, known as spot next, did not actively trade on Thursday. They closed at 144.85/90 per dollar on Wednesday, compared with Tuesday's close of 144.90/145.10.

Spot next, which has acted as proxy for the spot currency since January, indicates the exchange rate for the day following conventional spot settlement.

For Thursday's trade, the spot next settlement takes place five days ahead due to the intervening weekend.

Foreign investors net bought Rs. 8.47 billion ($58.53 million) worth of government bonds in the week ended 8 June, central bank data showed.