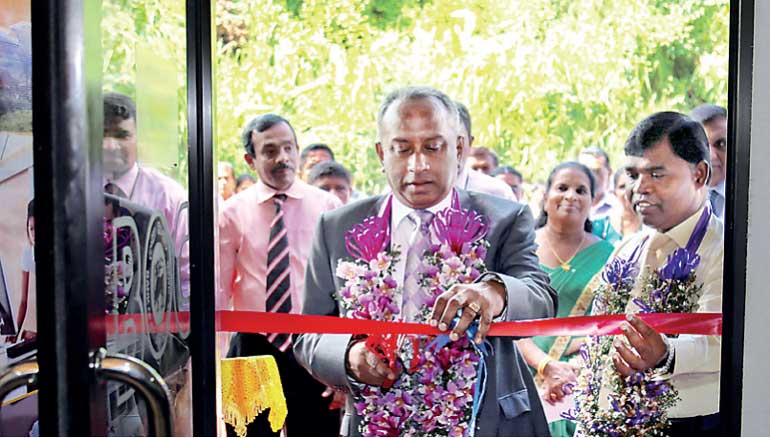 Bank of Ceylon Chairman Ronald C. Perera cutting the ribbon at the opening ceremony of the bank's regional loan centre in Ratnapura. The bank's General Manager D.M. Gunasekera, Deputy General Manager – Retail Banking Chandrani Jayaratne and other members of the bank's corporate management were also present
The best in class home loan offering 'Siri Medura' is now available for BOC customers in Sabaragamuwa province with the opening of the bank's eighth Regional Loan Centre in Ratnapura. The opening ceremony was held with the patronage of the bank's Chairman President's Counsel Ronald C. Perera and General Manager D.M Gunasekera on 6 October.

This best in class housing loan offering is aimed at providing superior customer experience while obtaining housing loans. Siri Medura is becoming the popular housing loan scheme among time strapped customers seeking financial assistance.

The product has many unique features that provide convenience to customers to obtain hassle free financial assistance such as only two visits to the bank to get housing loan, loan disbursement within 15 days, SMS alerts at each stage of the loan processing.

The bank also provides assistance to obtain necessary local authority documents without customer having to liaise with multiple agencies. All these features are provided while maintaining attractive interest rates and flexible repayment terms for loan facilities. Bank of Ceylon has made this product live in seven provinces across the island as part of project 'Wenesa' in collaboration with The Boston Consulting Group (BCG).

In addition to housing loans the regional centres have reenergised the commercial loans and loans for SME. Customers will now be able to avail their commercial loans within 25 days from the date of submitting completed documents and by just two visits to the bank. Here also customers will receive an SMS alert at each stage of loan processing and bank will assist customers to obtain necessary documents without having to liaise with multiple agencies.

"Bank of Ceylon continuously strives for excellence, and adding value to our customers is our main focus in this journey. Launching best in class products such as Siri Medura is a step in the direction of adding value to our customers through superior customer experience," stated Perera.

"We have launched Siri Medura in seven out of nine provinces. We want to make it island wide very soon. Enhancing customer experience through best in class products such as Siri Medura is a major step towards retaining our position as the No. 1 bank in Sri Lanka," stated Gunasekara.