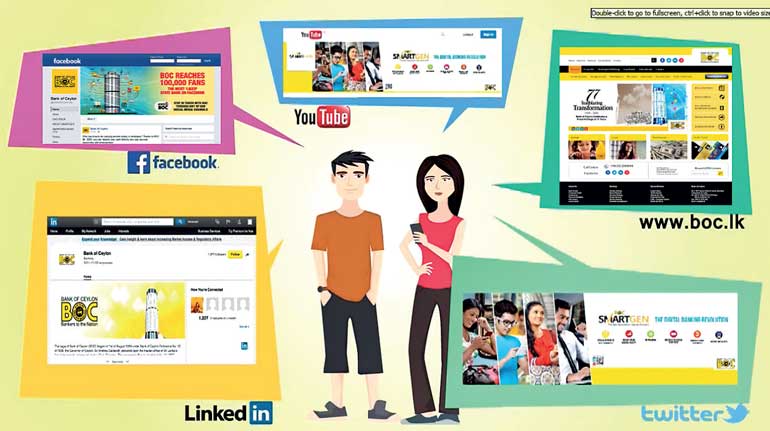 Taking on the digital world, the Bank of Ceylon passes over 100,000 authentic "likes" on its official Facebook page becoming the most liked Sri Lankan State bank.

As a part of the bank's ongoing digital transformation the bank opened its Facebook page with the launch of BOC SmartGen – the next generation of savings account – on 2015 December linking itself with social media. It further expanded its reach through popular social media networks such as LinkedIn, Twitter and YouTube acknowledging the digital shift within the community, especially among generation "Y" and beyond.

Now with the understanding of different approaches each platform perform, the bank carries exciting promotional campaigns, shares information on new products, latest financial news and informative videos through these. Certain advertising campaigns were launched initially on the BOC Facebook and before being it was extended to traditional media.

Along with the bank's 'SmartGen' launch on Facebook, it started the very first FB interactive promotion which gave away electronic devices such as pen-drives, head-sets, power-banks to winners. Thereafter BOC carried another exciting promotion in line with the International Women's day where winners were selected from the FB campaign and gave away gifts from Stone and String exclusive collection and 50 other consolation prices.

Keeping the momentum whilst updating latest information about the bank's novel products and value added services BOC carried Sinhala and Tamil New year games and then added a 'Movie Marathon' to spur interest among movie enthusiasts-especially generation "Y".

In Sri Lanka it is noted that Facebook is the most popularly used social media network among all other such networks. Similarly BOC's Facebook page is the most interactive social media tool that the bank uses to communicate with its customers on social media platform. BOCs LinkedIn and Twitter accounts share financial information that is mostly related to professionals who seek to update themselves with financial trends.

With a view to sharing the experience of digital transformation with the general public/ community it launched the country's very first 'Augmented Reality Advertisement' through press in the month of January this year. The bank's digital transformation process has now reached its phase of branch transformation where many branches would have digitally enabled self-serving 'SmartZones' which includes cash deposit machines, ATMs and an online banking facility that are operative 24x7.