Asite Talwatte has been appointed to the Board of Central Finance Plc as an Independent Non Executive Director with effect from 30 June, 2016.

His appointment follows the upcoming retirement of 70-year old A.N. Fernando keeping in line with provisions contained in Section 5 (1) of the Corporate Governance Direction No 3 of 2008 of the Central Bank for directors of finance companies.

Talwatte served as a Director of People's Bank and the SME Bank. He currently serves as an Independent Non Executive Director on the Boards of several listed companies.

Talwatte is a Fellow member of the Institute of Chartered Accountants of Sri Lanka, and the Chartered Institute of Management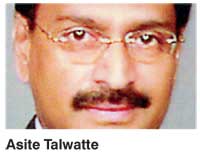 Accountants of the UK. He has a Past Graduate Diploma in Business and Financial Administration awarded by the ICASL and the University of Wageningem, Holland and an MBA from the University of Sri Jayawardenapura. He has also participated in a Kellogg Executive Program at the Kellogg Graduate School of Management, Northwestern University, Evanston, Illinois.

Talwatte recently retired from Ernst & Young after 37 years of which he served as the Country Managing Partner for over a decade. He has worked with E&Y's Far East Area Executive Committee, the Area Advisory Council and served on the ASEAN Leadership Committee.

Talwatte was the President of ICASL and CIMA.

He also served as the Chairman of the Statutory Accounting Standards Committee, the Auditing Standards Committee, the Urgent Issues Task Force and the Examinations Committee of the ICASL.

Talwatte has been closely associated with the development of corporate governance in Sri Lanka. He was actively involved in the development of the Code of Best Practice on Corporate Governance of 2003 of the ICASL. He co-chaired a Committee on Corporate Governance jointly set up by the ICASL and the Securities and Exchange Commission of Sri Lanka to review and revise the Code of Best Practice on Corporate Governance 2013.

He currently chairs the Committee to review the applicability of Integrated Reporting in Sri Lanka as well as the Committee reviewing the Code of Best Practice on Corporate Governance.

After the new appointment the Central Finance Plc Board of Directors will comprise of E.H. Wijenaike (Managing Director), G.S.N.Peiris, R.E. Rabukwelle, A.K. Gunaratne, C.L.K.P. Jayasuriya, D.P. De Silva, S. Wickramasinghe, J.D. Bandaranayake, F. Mohideen and A. Talwatte.