Net foreign outflow in rupee bonds for second consecutive week
By Wealth Trust Securities

The switch in approach to a 'wait and see' by market participants ahead of the upcoming primary auctions saw activity dry up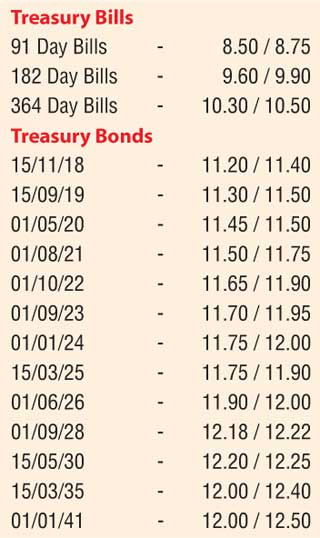 considerably in the secondary bond market yesterday.

A very limited amount of activity was witnessed on the 01.09.2028 maturity within the range of 12.15% to 12.20% as two way quotes on other maturities were seen widening as well.

Meanwhile the foreign holding in Rupee bond was seen decreasing for a second consecutive week, recording an outflow of Rs.2.36 billion for the week ending 4 May while the accumulated outflow for the past two weeks stood at Rs.10.19 billion.

Meanwhile in money markets, the overnight call money and repo rates averaged at 8.15% and 8.00% respectively as liquidity stood at a net surplus of Rs.3.79 billion yesterday.


Rupee remains steady

Meanwhile in Forex markets, the rupee on spot next contracts remained mostly unchanged to close the day at levels of Rs.146.18/25. The total USD/LKR traded volume for 6 May was $ 57.18 million.

Some of the forward USD/LKR rates that prevailed in the market were: one month – 147.10/25; three months – 148.55/75; and six months – 150.90/10.