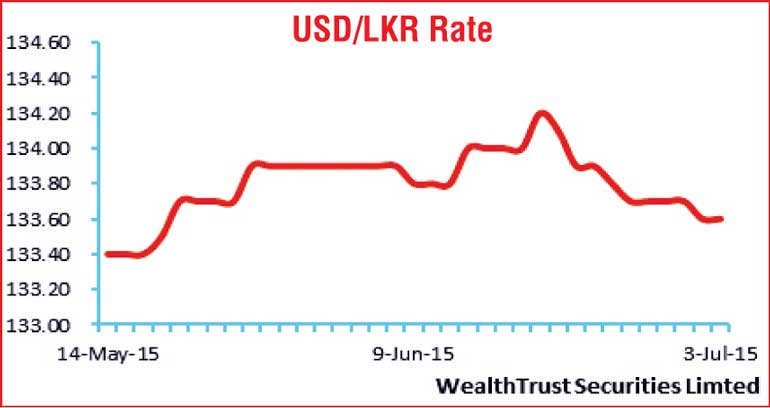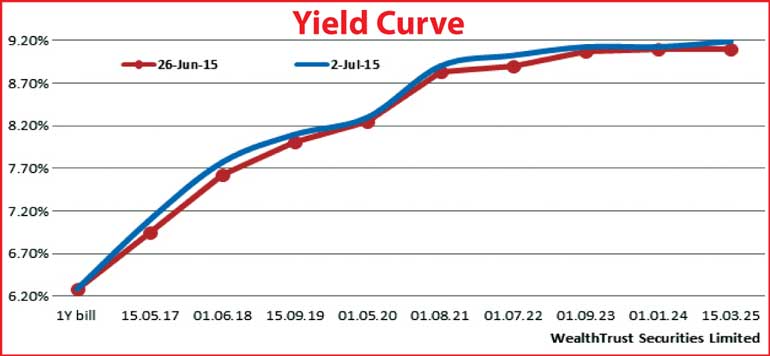 By Wealth Trust Securities

The sentiment in secondary bond markets turned bearish during the week ending 3July, following the announcement of parliamentary elections and the monitory policy announcement for July where policy rates were held steady at 6.00% and 7.50% for a second consecutive month.

This coupled with the mixed outcome of the primary auctions during the week, where the weekly Treasury bill weighted averages were seen increasing for the first time in four weeks while the weighted averages of the Treasury bond auctions were seen reducing in comparison to its secondary markets yields saw most markets participants adopting a wait-and-see approach which led to activity drying up in secondary bond markets.

The limited amount of activity witnessed centered on the liquid maturities of 01.06.2018, 01.08.2021, 01.07.2022, 01.09.2023 and 15.03.2025 as its yields were seen increasing towards the latter part of the week to weekly highs of 7.75%, 8.90%, 9.00%, 9.11% and 9.15% respectively against its weekly lows of 7.65%, 8.85%, 8.90%, 9.00% and 9.05%. This was despite inflation dipping to its all-time low of 0.10% on its point-to-point and 1.70% on its annualised averages for June.

Meanwhile, in money markets, the overnight call money and repo rate increased marginally during the week ending 3 July, to average 6.12% and 5.89% respectively against its previous week's average of 6.10% and 5.82% despite surplus liquidity increasing to average Rs. 68.57 billion for the week against its previous week's average of Rs. 62.62 billion.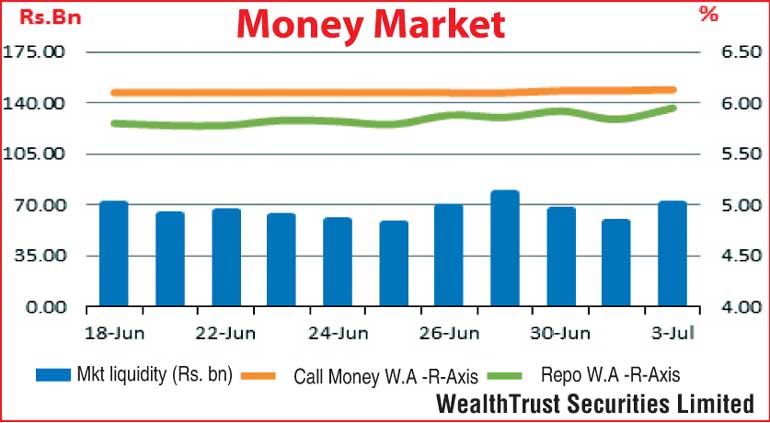 Rupee continues appreciating trend

The rupee appreciated during the week to a high of Rs. 133.60 against its last week's closing levels of Rs. 133.70. The daily average USD/LKR traded volume for the first three days of the week was at US $ 52.18 million.

Some of the forward dollar rates that prevailed in the market were three months - 135.25/30 and six months - 136.75/90.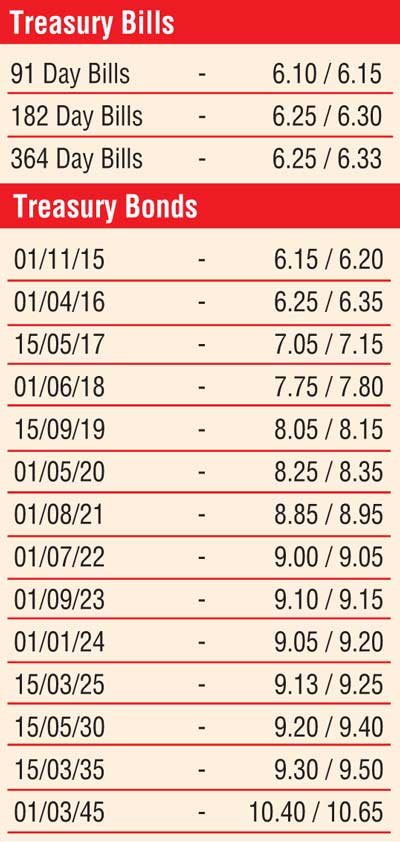 CB likely to keep rates steady until 17 Aug. polls
Reuters: Sri Lanka's Central Bank is likely to keep key monetary policy rates steady until 17 August parliamentary polls, but there could be a significant cut later if a stable government is elected, Governor Arjuna Mahendran told Reuters on Friday.

President Maithripala Sirisena dissolved Parliament on 26 June in a bid to consolidate power and push through political reforms.

"Until the elections, the rates are likely to be at the current level," Mahendran said, speaking after a news conference in the capital. "But there could be a significant rate cut after the election, if there is a stable government."

Sri Lanka's central bank kept key policy rates steady at record lows on Monday for a second straight month, as expected.

It left unchanged the standing deposit facility rate (SDFR) and the standing lending facility rate (SLFR), at 6.00% and 7.50%, respectively. The commercial banks' statutory reserve ratio was unchanged at 6.00%. In April, the Central Bank surprised markets with a 50 basis point cut to boost economic growth. Until April, rates had been steady for 14 months. The Central Bank has estimated economic growth at 7% this year, while Finance Minister Ravi Karunanayake has said the $ 75-billion economy will expand up to 7.2%, lower than 7.4% last year.

Growth of 7% is achievable, Mahendran told the news conference, despite expansion of 6.4% in the first quarter, as second-half growth is expected to be higher, fuelled by a faster recovery in the construction sector.