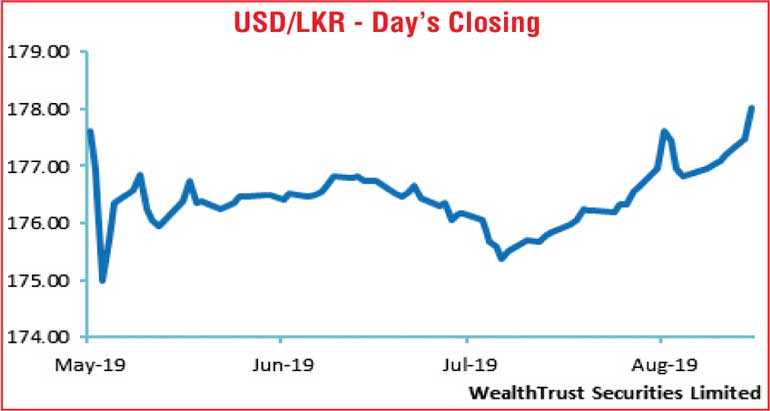 ---
Rupee dips towards Rs. 178
By Wealth Trust Securities

The secondary market bond yields were seen decreasing yesterday, reversing four consecutive days of increases with yields closing the day lower across the yield curve against its previous day's closings.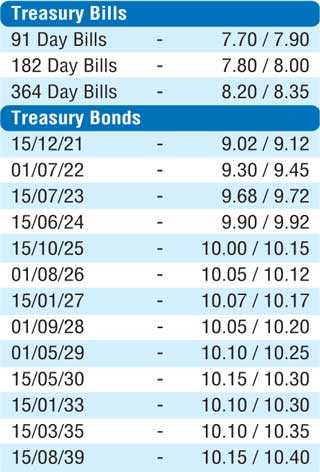 Renewed local buying on the back of a slowdown in foreign selling led to yields on the liquid maturities of 2021's (i.e. 01.08.21 and 15.12.21), two 2023's (i.e. 15.07.23 and 15.12.23) and two 2024's (i.e. 15.03.24 and 15.06.24) dipping to intraday lows of 9.00%, 9.10%, 9.70%, 9.80%, 9.90% and 9.91% respectively against its previous day's closing levels of 9.10/20, 9.15/20, 9.80/85, 9.85/95, 9.97/03 and 10.00/03 as activity centred on the short end of the curve. In addition, the 01.05.20 and 01.07.22 maturities were seen changing hands at levels of 8.20% and 9.30% to 9.45% respectively as well.

At today's Treasury bill auction, the total offered amount of Rs. 18 billion will consist of Rs. 1.5 billion each on the 91-day and 182-day maturities and further Rs. 15 billion on the 364-day maturity. At last week's auction, the weighted averages on the 91 and 364-day maturities increased by five and six basis points respectively to 7.80% and 8.17% while all bids received on the 182-day bills were rejected. The total secondary market Treasury bond/bill transacted volumes for 19 August was Rs. 15.90 billion.

In money markets, overnight call money and repo rates averaged 7.78% and 7.92% respectively yesterday as the Open Market Operations (OMO) Department of Central Bank was seen injecting an amount of Rs. 7.90 billion by way of overnight reverse repo auction at a weighted average rate of 7.72%.

In addition, an amount of Rs. 9.10 billion was injected by way of a seven-day reverse repo auction at a weighted average rate of 7.58% while a total amount of Rs. 2.75 billion was injected by way of outright auctions to purchase Treasury bills for durations ranging of 275 to 289 days at a single weighted average of 7.86%. The overall net liquidity surplus on an overnight basis stood at Rs. 14.70 billion.
Rupee dips towards Rs. 178.00
The interbank USD/LKR rate on spot contracts was seen hitting an intraday low of Rs. 177.98 yesterday against its previous day's closing levels of Rs. 177.40/55 on the back of importer demand and selling in rupee bonds. It closed the day at Rs. 177.95/10.

The total USD/LKR traded volume for 19 August was $ 89.16 million.

Some of the forward USD/LKR rates that prevailed in the market were 1 month – 178.40/60; 3 months – 179.40/70 and 6 months – 181.10/40.