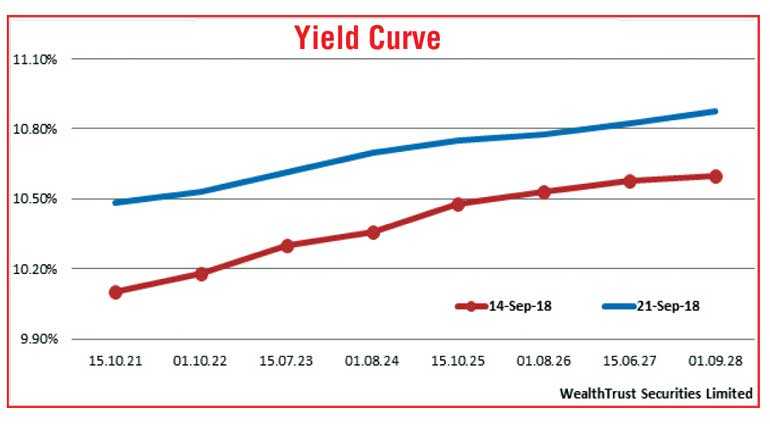 By Wealth Trust Securities

The secondary bond market took a beating for a second consecutive week as yields continued to leapfrog driven by foreign and local selling interest on the back of market uncertainties.

The liquid maturities of 15.10.21, 15.12.21, 15.03.23, 15.07.23, 01.08.24 and 15.10.25 saw its yields fluctuate during the week, hitting highs of 10.58% each, 10.80%, 10.70%, 10.90% and 10.80% respectively during the early part of the week against its previous weeks closings of 10.07/12, 10.15/20, 10.23/30, 10.27/32, 10.32/40 and 10.45/50.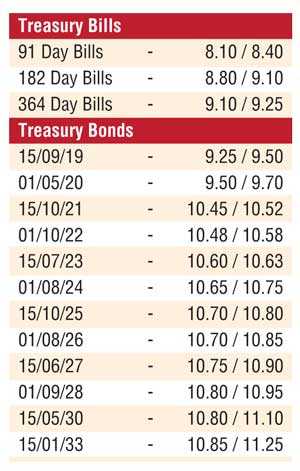 However, following the rejection of the weekly Treasury bill auction due to market participants demanding higher yields, secondary market bond yields reversed its upward trend and edged lower to hit weekly lows of 10.37%, 10.41%, 10.53%, 10.50%, 10.60% and 10.55% respectively before edging up again towards the latter part of the week.

The week on week increase on the given maturities were 39, 38, 34, 32, 34 and 27 basis points respectively, registering a parallel shift upward of the overall yield curve for a second consecutive week.

Furthermore, the foreign outflow from rupee bonds was seen hitting a 19-month high of Rs. 8.81 billion for the week ending 19 September.

The daily secondary market Treasury bond/bill transacted volume through the first four days of the week averaged Rs. 7.05 billion.

The Open Market Operations (OMO) Department of Central bank was seen injecting liquidity throughout the week by way of overnight and four to seven days reverse repo auctions at weighted averages ranging from 7.85% to 8.15%.

This in turn led to call money and repo rates remaining steady in the money market to average 8.01% and 8.02% respectively for the week. Liquidity averaged a net deficit of Rs.26.96 billion for the week.


Rupee loses further

In the forex market, the downward trend on the rupee continued during the week to close the week at Rs. 168.30/70 against its previous weeks closing levels of Rs. 163.60/80 subsequent to hitting a new low of Rs. 169.00 on the back of importer demand and foreign outflows in rupee bonds.

The daily USD/LKR average traded volume for the first four days of the week stood at $ 66.23 million.

Some of the forward dollar rates that prevailed in the market were: one month – 169.40/80; three months – 171.10/50; and six months – 173.80/50.