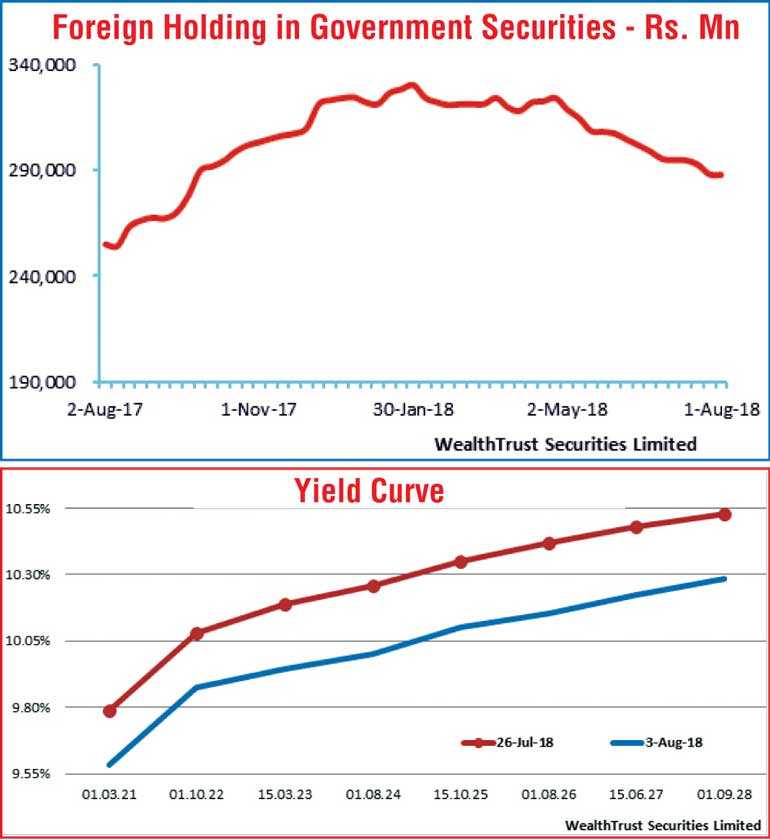 Policy rates remain unchanged
By Wealth Trust Securities

The Central Bank's monetary policy announcement on Friday saw it hold its policy rates steady at 7.25% and 8.50%.

In the secondary bond market, the overall yield curve recorded a considerable parallel shift downwards during the week ending Friday (3 August), driven by local buying interest and the outcome of the weekly Treasury bill auction. At the auction, the weighted average yields of the 91-day and 364-day maturities continued to decrease.

Buying interest on the short end to the belly end of the yield curve consisting of the maturities of 01.07.19, 01.05.20, two 2021's (i.e. 01.03.21 and 01.05.21), 01.10.22, 15.03.23, 01.08.24, 15.10.25, 01.08.26, 15.06.27 and 01.09.28 resulted in their yields decreasing to weekly lows of 9.15%, 9.45%, 9.55%, 9.60%, 9.90%, 9.95%, 10.00%, 10.12%, 10.15% and 10.25% each, respectively, in comparison to its previous week closing levels of 9.20/30, 9.45/55, 9.75/82, 9.80/85, 10.05/10, 10.18/20, 10.22/30, 10.30/40, 10.37/47, 10.45/50 and 10.50/55 on the back of increased activity.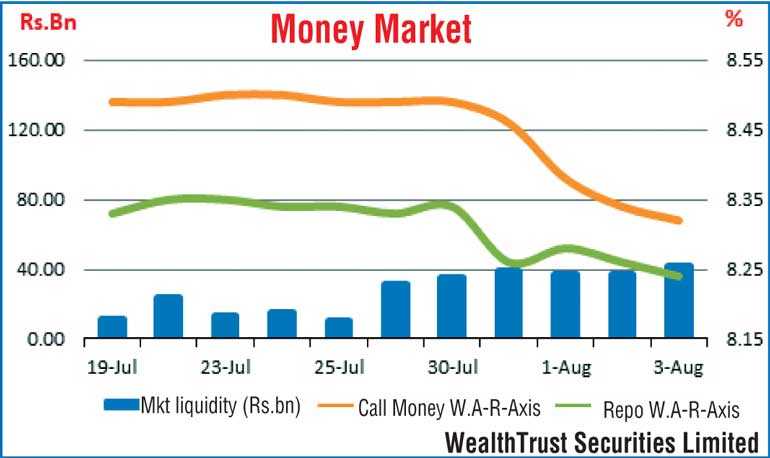 Nevertheless, the foreign selling of rupee bonds, which has been prevalent over the past 13 weeks, continued with a further outflow of Rs. 260 million for the week ending 1 August, while Inflation on its point to point increased for a third consecutive month to record 5.4% for the month of July against its previous month of 4.4%.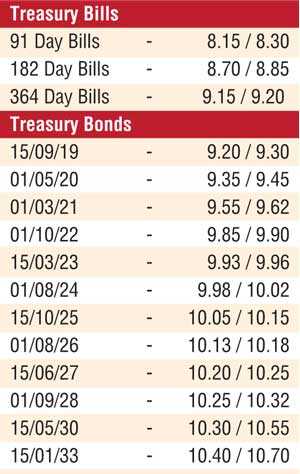 The daily secondary market Treasury bond/bill transacted volume for the first four days of the week averaged Rs. 9.88 billion.

In the money market, the overnight call money and repo rates decreased during the week to average at 8.40% and 8.28%, respectively, as the Open Market Operations (OMO) Department of Central Bank refrained from conducting any repo auctions in order to drain out excess liquidity. The net liquidity surplus in the system increased to Rs. 38.23 billion on average per day during the week against its previous week's net surplus average of Rs. 17.70 billion.

Rupee depreciates during the week

The USD/LKR rate on the back of importer demand depreciated during the week to close the week at levels of Rs. 159.75/90 in comparison its previous weeks closing level of Rs. 159.55/65 subsequent to trading within the range of Rs. 159.50 to Rs. 159.90.

The daily USD/LKR average traded volume for the first four days of the week stood at $ 76.24 million.

Some of the forward dollar rates that prevailed in the market were 1 Month - 160.55/65; 3 Months - 162.20/40 and 6 Months - 164.60/90.