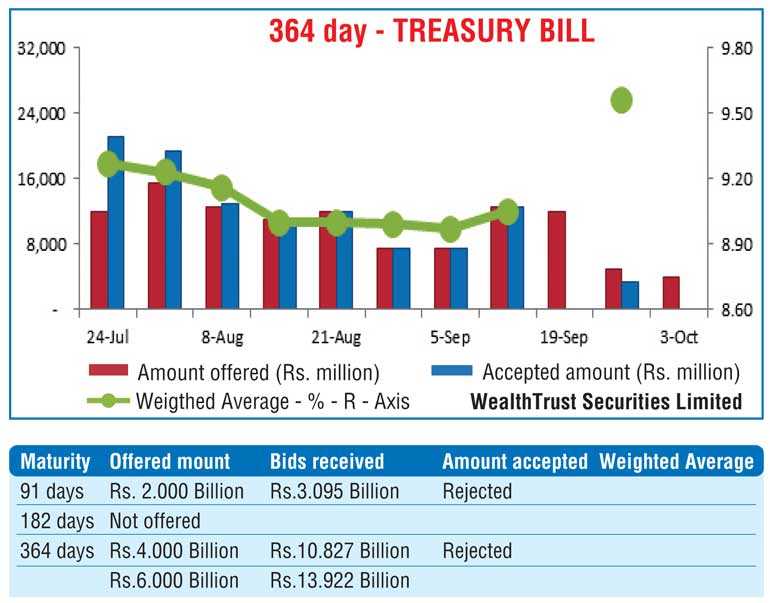 By Wealth Trust Securities

All bids received for yesterday's weekly Treasury bill auction were rejected for a second time in three weeks due to market participants seeking higher yields. At its previous week, the 91-day and 364-day bills fetched weighted averages of 8.56% and 9.51%, respectively.

The secondary market bond yields were seen continuing its declining trend yesterday with yields on the short dated liquid maturities of 15.10.21 and 15.07.23 declining to intraday lows of 10.60% and 10.80%, respectively, against its previous days closings 10.75/80 and 10.94/98.

In addition, the maturities of 01.05.20, 2021's (i.e. 01.05.21, 01.08.21 and 15.12.21) and 15.03.23 were seen changing hands within the range 10.30% to 10.34%, 10.55% to 10.78% and 10.87% to 10.95%, respectively.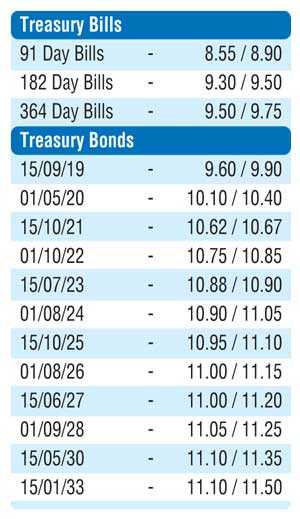 On the belly end to the long end of the curve, 15.03.25, two 2026's (i.e. 01.06.26 and 01.08.26) and 01.09.28 changed hands within the range of 11.10% to 11.15%, 11.18% to 11.25% and 11.28% to 11.35%, respectively, as well.

The total secondary market Treasury bond/bill transacted volumes for 2 October was Rs. 4.90 billion.

In the money market, the Open Market Operations (OMO) Department of Central Bank injected an amount of Rs. 13.25 billion in total by way of outright purchases of Treasury bills for durations ranging from 127 days to 155 days at weighted averages of 8.63% to 8.84%, valued today.

A further amount of Rs. 28.61 billion was infused by way of an overnight and 7-day reverse repo auctions at weighted averages of 8.14% and 8.22%, respectively. The net liquidity shortfall stood at Rs. 35.61 billion yesterday with the overnight call money and repo rates averaging at 8.44% and 8.33%, respectively.

Rupee dips

once again

The continued importer demand saw the USD/LKR rate on its spot contract dip to a new low of Rs. 169.80 yesterday and closed the day at Rs. 169.65/95.

The total USD/LKR traded volume for 3 October was $ 42.25 million.

Some of the forward USD/LKR rates that prevailed in the market were 1 month – 170.90/40, 3 months – 172.70/10, and 6 months – 175.50/90.