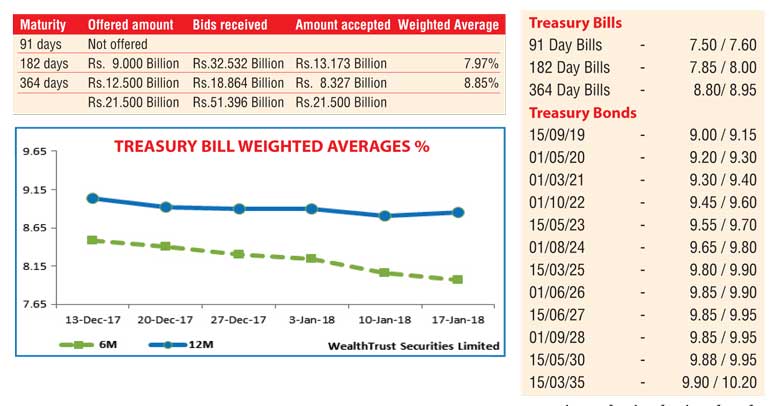 By Wealth Trust Securities

The Weekly Treasury bill auction saw its weighted averages move in opposite directions, underlining investor demand mainly for the shorter tenure maturity.

The 182 day bill saw its weighted average decline for an 11th consecutive week to 7.97% recording a nine basis point drop while the 364 day bill increased by 05 basis points to 8.85%, reversing its declining trend. Only an amount of Rs. 8.32 billion was accepted on the 364 day bill against its offered amount of Rs. 12.5 billion while the 182 day bill dominated the auction as it represented 61% of the total accepted amount of Rs. 21.5 billion.

Furthermore, the total bids to offer ratio was seen dipping to a 13-week low of 2.39:1 as well.

In the secondary bond market, the upward trend in yields was seen continuing yesterday as well with the liquid two 2026 maturities (i.e. 01.06.26 and 01.08.26) and the 15.05.30 hitting intraday highs of 9.89%, 9.90% and 10.00% respectively. In addition, the 15.09.19, 01.05.20 and the 2021 maturities (i.e. 01.08.21 and 15.12.21) were seen changing hands at levels of 8.95%, 9.25% and 9.30% to 9.35% respectively as well.

The total secondary market Treasury bond/bill transacted volumes for 16 January was Rs. 7.05 billion.

In money markets, the overnight call money and repo rate averaged 8.12% and 7.55% respectively as the Open Market Operations (OMO) Department of the Central Bank of Sri Lanka was seen draining out an amount of Rs. 3.29 billion on an overnight basis by way of a Repo auction at a weighted average of 7.28%.


Rupee appreciates

In the Forex market, the rupee on spot contracts appreciated yesterday to close the day at Rs. 153.75/85 against the previous day's closing levels of Rs. 153.95/00 on the back of inward remittances.

The total USD/LKR traded volume for the 16th of January 2017 was $ 67.28 million.

Some of the forward USD/LKR rates that prevailed in the market were 1 Month - 154.63/73; 3 Months - 156.30/40 and 6 Months - 158.65/75.