Premier Health Benefits to provide dental care and optical care for the first time in SL
Provides highest maternity cover
Increases annual cover by 25% year-on-year when there are no claims
By Divya Thotawatte
Softlogic Life recently unveiled its latest insurance product 'Softlogic Life Premier Health Benefit', which is Sri Lanka's largest health insurance rider benefit to date, offering a cover up to Rs. 50 million a year.

Softlogic Life Managing Director Iftikar Ahamed speaking at the event based on the theme 'Inspire Sri Lanka' stated: "We have introduced to the market a product that we think is exceptional in many ways. We're very passionate about the Life Insurance industry in Sri Lanka. We want to inspire our customers to lead a good life, to enjoy, and to follow their passions because if you get sick in any way we're here to take care of you."

Softlogic Life Premier Health Benefit, Softlogic Life's latest insurance offering provides a number of 'industry-first' healthcare benefits for individuals and their families even when they are travelling around the world. A worldwide hospitalisation cover and cashless claim settlement service serves as a financial relief particularly in the case of an emergency while travelling abroad.



Life Operations General Manager Lasitha Wimalaratne stated: "This product covers in-patient treatment as well as day care surgeries. The in-patient cover will provide for room charges including ICU, and the surgical cover provides surgical fees, operating theatre charges, etc. The miscellaneous cover will provide the cost of doctors, consulting, medicines, and equipment."

While providing hospitalisation benefits including in-house and day care treatment at both private and government hospitals, Premier Health Benefits also covers dental care treatments, surgeries and consultations, reimbursement of pharmacy bills and wellbeing benefits, and optical care including examinations, cost of spectacles, frames and corrective lenses. These facilities are offered for the first time in Sri Lanka by an insurance company.

Softlogic Life Premier Health Benefit also provides the highest maternity cover in the industry in which entire costs of delivery and treatments for mother and baby until the time of discharge is completely taken care of the newly launched insurance product. Some standout features of this product are cancer cover benefit for radiotherapy and chemotherapy, dialysis benefit for kidney patients, prosthesis and implant benefits, pre and post hospitalisation expenses and a daily allowance for hospitalisation in government hospitals and organ donor expenses.

Additionally, the new life insurance rider benefit offers 'Benefit escalation feature' that increases the basic annual guaranteed cover by 25% year-on-year when there are no claims. Reinstatement Benefit is another feature where a 100% top up benefit on the basic annual cover could come into effect. Wimalaratne said that all the facilities will be covered as a worldwide settlement benefit so that customers would be able to enjoy the comfort of freedom abroad as well.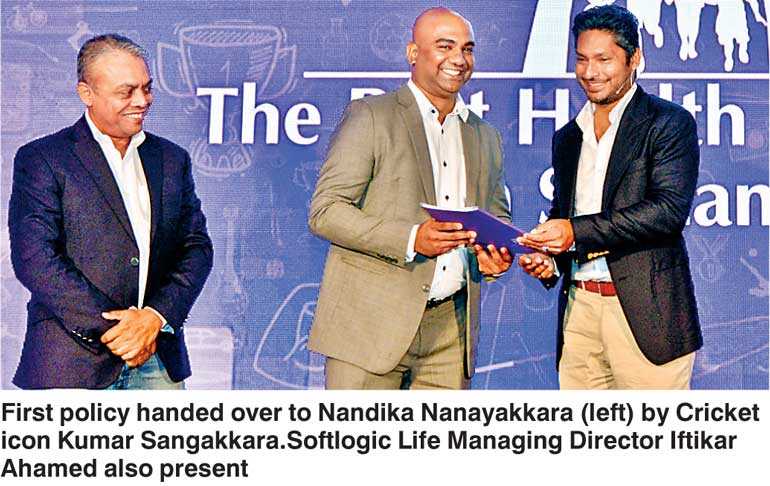 Former Sri Lankan International Cricketer and Softlogic Life Brand Ambassador Kumar Sangakkara delivering the keynote address at the launch spoke on 'Passion'. "Passion comes in many ways. For us, there comes a choice, what we are passionate about and what our attitude towards that passion is. When it comes to doing something that you're passionate about, it always starts with love; something that you love so much that you want to invest your time on it. We do things that we love because at the end of day we are looking for peace of mind, fulfilment, and contentment, and when you have all of this things you will be happy," he said, stressing on the fact that to live a happy life it is necessary to follow the passion.

"You cannot follow your heart and passion and be happy without a complete lack of regret or without opportunities missed, and with hard decisions made. But at the end of the day it will be worth it and that will not only keep you happy, but everyone around you as well," he added.

Pix by Daminda

Harsha Perera