Establishing its position as the market leader, Seylan Bank revolutionizes mobile payment solutions in Sri Lanka by expanding its presence with 15,000 mPOS machines across the island, transforming Small and Medium Enterprises with innovative financial solutions to face the fast-paced growth of economic digitalization.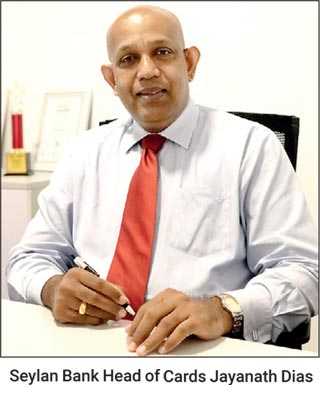 With the vision to adapt and create a safe, convenient cashless economy within the country, Seylan Bank introduced 'Seylan Mpay' in 2016. Since inception, Seylan Mpay has been well accepted by its customers due to convenience and affordability. With time Seylan Mpay has invested in the latest technology to upgrade its mobile payment solutions to suit the growing needs of small and medium enterprise owners across the Island, enabling them with up-to-date features to carry out secure cashless transactions with ease.

Seylan has been at the forefront of assisting SMEs and MSMEs to reach their fullest potential by helping them gain access to information on innovative financial technologies, understanding the need within the market for a convenient mobile solution. Team Seylan formulated a product that is accessible and affordable to all, whether it's a small-time grocery shop owner, a small scale pharmacist or a medium scale software company. Seylan MPay's uniqueness and authenticity have helped it grow in popularity and become the market leader today. Innovation and technology is the way forward, building a business community that is digitally savvy and ready for tomorrow's economic challenges is one of Seylan's organizational goals.

Speaking on the milestone, Seylan Bank PLC Head of Cards Jayanath Dias said, "We see people in Sri Lanka slowly but steadily evolving themselves towards current market trends, where cashless transactions play a pivotal role, Seylan wanted to create and present a tool that would help change the way people see digital transactions and build a community that progresses with technology. Since its inception in 2016 until today Team Seylan has invested in upgrading and expanding our mobile payment solutions across the island. Our long-term vision is to enable all SMEs and MSMEs with the same level of digital infrastructure support as other leading merchants in the country, so that they are geared to offer the same level of convenience and security towards their customers while growing their businesses. This milestone proves that our strategy is right and we will continue to grow in times to come."

Seylan Bank, 'the bank with a heart' operates with a vision to offer the ultimate banking experience to its valued customers and is evolving rapidly with new technology, innovative products, and services to set a new benchmark in the banking sector. The Bank has expanded its footprint with over 172 branches across the country and boasts an ATM network of over 215 units covering crucial locations while 10 branches provide 365-day banking. For more information on Seylan products and services, please visit www.seylan.lk.