By Wealth Trust Securities

The unexpected outcomes at the primary auctions at the start of the trading week led to activity drying up considerably during the shortened trading week ending 2 March 2018.

Firstly the Treasury bond auctions conducted on Monday, 26 February saw the three-year maturity of 01.03.2021 progress to its Phase II stage of the new Treasury Bond auction system for the first time since its introduction in July 2017, but not to its mandatory third phase due to the minimum requirement of 60% not being subscribed to at its first phase. This was followed by the weekly Treasury bill auctions, where all bids for the 91 day and 182 day bills were rejected and the total offered amount of Rs. 30 billion was only accepted from the 364 day bill against its initial offered amount of Rs. 13 billion.

Driven by these developments, activity in the secondary bond market moderated considerably during the week. Limited volumes of the two 2021 maturities (i.e. 01.03.21 and 01.08.21), 01.08.25 and 15.05.30 were seen changing hands within the range of 9.88% to 9.98%, 9.85% to 10.15%, 10.37% to 10.40% and 10.55% to

10.58% respectively against its previous week's closing levels of 9.70/75, 9.80/90, 10.25/40 and 10.40/45.

In the secondary bill market, renewed selling interest in April 2018, June 2018 and February 2019 saw its yields edge up to intraweek highs of 8.60%, 8.62% and 9.65% respectively.

However, reversing an outflow witnessed over the previous three weeks, the foreign holding in rupee bonds was seen recording an inflow of Rs. 496 million for the week ending 28 February 2018.

The daily secondary market Treasury bond/bill transacted volumes for the first three days of the week averaged Rs. 7.43 billion.

In money markets, the overnight call money and repo rates remained mostly unchanged during the week to average 8.13% and 7.54% respectively, as the Open Market Operations (OMO) Department of the Central Bank of Sri Lanka continuously drained out liquidity by way of overnight repo auctions at weighted average rates of 7.25% and 7.26%.

In addition, it drained out in total an amount of Rs. 18.23 billion on a permanent basis by way of auctions for outright sales of Treasury bills and term repos at weighted averages ranging from 7.35% to 8.20% for a duration ranging from five days to 56 days as the average net surplus liquidity in the system stood at Rs.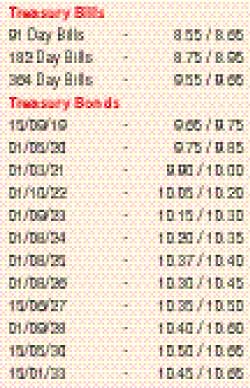 38.56 billion for the week.

Rupee remains volatile

The USD/LKR rate on spot contracts appreciated to an intraweek high of Rs. 154.80 during the early part of the week against its previous week's closing levels of Rs. 155.15/25 before losing ground once again to hit a low of Rs. 155.26 and close the week at Rs. 155.15/25, on the back of renewed importer demand.

The daily USD/LKR average traded volume for the three days of the week stood at $ 91.56 million.

Some of the forward dollar rates that prevailed in the market were one month - 155.95/05; three months - 157.70/85 and six months - 160.15/25.