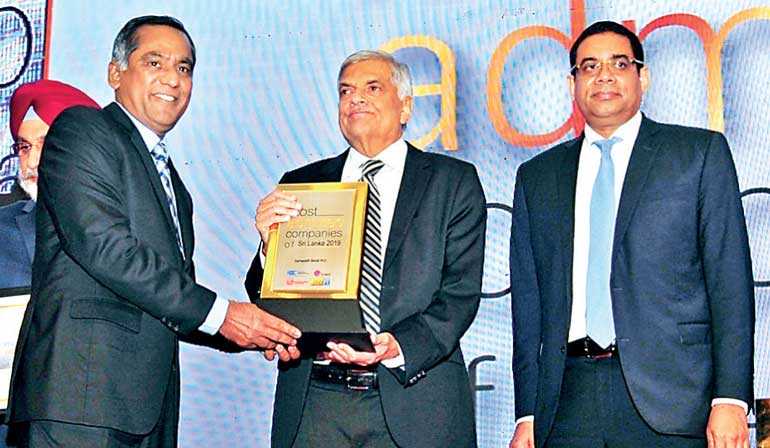 Prime Minister Ranil Wickremesinghe presenting the Most Admired Companies of Sri Lanka 2019 award to Sampath Bank Managing Director Nanda Fernando (left) as ICCSL Chairman Dinesh Weerakkody looks on
---
Standing testimony to its superlative service to the nation, Sampath Bank was placed among Sri Lanka's 10 Most Admired Companies at the 'Most Admired Companies of Sri Lanka 2019' held at BMICH recently. Marking yet another historic milestone, Sampath Bank won this prestigious award for the second consecutive year.

The event was organised by the International Chamber of Commerce (ICC) and the Chartered Institute of Management Accountants (CIMA) Sri Lanka in partnership with Daily FT and AIA Insurance.

Based on a public survey steered by Dialog, the Top 10 admired companies were curated out of 207 companies nominated as the most admired by their employees, competitors and stakeholders. The finalists were chosen by a distinguished panel of judges through a stringent evaluation process in accordance with a globally acclaimed criteria.

The evaluation took a number of factors into account including financial performance of the individual companies in addition to the value created by them for all their stakeholders comprising employees, customers, shareholders and the general community.

Ranking among Sri Lanka's Top 10 admired companies out of over 200 most admired companies signifies a truly deserving reward for the unparalleled efforts and commitment to excellence portrayed by Team Sampath while serving the nation.