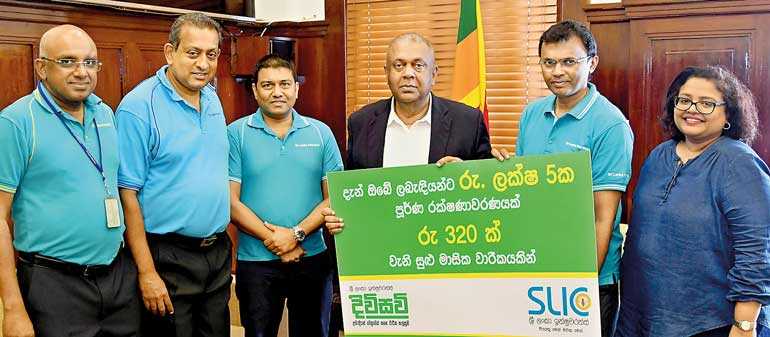 SLIC Managing Director Dushyanta Basnayake (centre right) launching the 'Divisavi' product with Finance Minister Mangala Samaraweera. Also present from left: SLIC Chief Officer Life Suresh Paranavithana, Chief Officer Business Development Rukman Weeraratne, CEO Chandana L. Aluthgama, Deputy General Manager/Head of Marketing Namalee A. Silva
---
The pioneer of insurance industry, Sri Lanka Insurance (SLIC) recently launched their newest life insurance plan 'Divisavi', an insurance policy which provides complete financial protection for the loved ones of the policyholder at a very affordable premium.

This product was launched at the Finance Ministry with the distinguished participation of Finance Minister Mangala Samaraweera. Managing Director Dushyantha Basnayake and members of the top management of SLI were also presented at the occasion.

Identifying the competitive lifestyles of Sri Lankan people and understanding heavy financial commitments in life, Sri Lanka Insurance introduced this affordable Life Insurance Plan 'Divisavi'.

'Divisavi' is a Life Insurance policy that can be obtained at a very low monthly premium, paving the way for all Sri Lankans to own a Life Insurance policy. Divisavi enables you to continue the financial security of your loved ones after your demise.

For a person aged 30, investing in a 30-year Life Insurance Policy for Rs. 500,000 now will have to pay only Rs. 320 per month.

Premium paying period of 'Divisavi' spans from five years to 40 years and payments can be made annually, half annually, quarterly and monthly, making it convenient for customers. Customers in the age range of 18 to 65 are eligible for the policy and sum assured can varied between minimum of Rs. 50,000 to maximum of Rs. 1,250,000.

In the event of death of life assured (accident or nature) during the premium paying period the basic sum assured will be paid.

Sri Lanka Insurance is in the forefront of all activities relating to spreading the message of Life Insurance and its importance to the people of this nation. Divisavi is yet another endeavour in this aspect. For more information call 11 2 357 357.