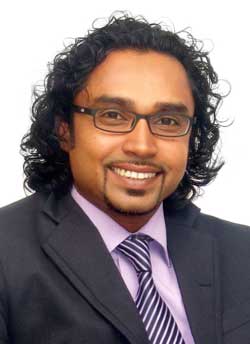 Sri Lanka is set to host its first South Asian Micro-Entrepreneurs Network (SAMN) conference next week. The biennial conference, to be held this year in Colombo on 6 and 7 March at the Cinnamon Lakeside, will reflect on SAMN's progress so far and explore the possibilities for accelerating financial inclusion in the region, under the theme Deepening Financial Inclusion in South Asia.

According to the organisers, the conference will bring together leading microfinance practitioners, regulators, donors, investors, research organisations and private sector players from across the region devoted to promoting inclusive finance. Some 300 delegates from Sri Lanka, Afghanistan, Bangladesh, India, Nepal, and Pakistan are expected to benefit from the open exchange of information and expertise that will take place at the event.

The SAMN conference will be hosted by the Lanka Microfinance Practitioners Association (LMFPA), Sri Lanka's apex body for the industry. Daily FT caught up with LMFPA Honorary President Imran Nafeer for a brief interview on the upcoming event and what local microfinance institutions can expect.


Q: Could you give us a brief introduction to the LMFPA and the role it plays in SAMN?

A: The LMPFA was established in 2006 with the objective of creating an environment conducive to the unhindered development of microfinance in Sri Lanka. Lobbying regulators and policymakers, institutional capacity building, information sharing are some of the important work we've done over the years. In 2008, together with microfinance networks in other countries in South Asia, we formed SAMN which today is the regional body that represents microfinance networks and industries in the region.

It started in 2008. We were a member since inception.
Q: What prompted SAMN to organise these conferences?

A: One of SAMN's objectives is to conduct regional seminars to share expertise, best practices, technology and innovation among member states. South Asian countries are considered the largest microfinance providers in the world. Countries like Bangladesh, Pakistan and India have a wealth of knowledge they can share with their neighbours.

To share this information and expertise, SAMN organises conferences twice a year. In 2014, we had it in Islamabad; the 2016 conference was in New Delhi. This year, it'll be in Colombo, which seems to be an attractive and convenient location to all participants.
Q: What is the theme of this year's conference?

A: The main topic this time is deepening financial inclusion. A number of renowned speakers from across the region will shed light on this topic for the benefit of the participants.
Q: How will all this be of significance to Sri Lanka?

A: Sri Lanka is considered an ideal location for innovative microfinance solutions, and what with regulations recently introduced by the Central Bank, the industry as a whole is now expected to be sufficiently standardised. Sri Lankan microfinance practitioners are therefore poised to benefit even more from the expertise of their regional counterparts.
Q: Could you elaborate a bit on the recent regulations?

A: In 2016, the Microfinance Act was passed in Parliament, resulting in otherwise unregulated microfinance institutions being regulated and getting formally structured. This year's conference is being held on that backdrop, where regulators and policymakers are connected to the industry and the industry itself is also moving ahead with technology. It'll be a great opportunity for Sri Lankans microfinance institutions, both microfinance companies and NGO microfinance institutes, as well as other microfinance providers.
Q: Who will be speaking at the event?

A: There will be experts from all over the region. One of the highlights of the event will be the address by renowned social entrepreneur and scholar Dr. Mark Schreiner, who will discuss his Poverty Probability Index (PPI) with special reference to its applicability in Sri Lanka and other SAMN countries.
Q: As an industry veteran, how do you think microfinance ought to evolve in the digital age?

A: In the modern era of microfinance, the industry is now looking at how technology can be integrated, for example in areas of mobile money, mobile transactions, digital finance, data analytics, paperless microfinance, etc. Here we will explore opportunities available to get IT into the industry. In fact, this will be addressed at the conference, and it will explore possibilities beyond mobile money.
Q: What has the LMFPA's role been since the regulations were introduced?

A: From the inception, we lobbied with regulators to draft the Microfinance Act. We lobbied for 10 years, and finally we made it happen. The LMFPA was the backbone of this regulation. For every draft that came after, they sought feedback from us. The LMPFA was also able to include non-governmental microfinance institutions (or NGO microfinance institutions, as we call them) in the regulatory framework. That was one of our biggest achievements.
Q: What are the benefits of becoming an LMFPA member?

A: LMFPA is the apex body of the industry, recognised by all stakeholders and development agencies. Being a member will avail all to an institution services like access to information, capacity building, knowledge sharing, etc. and be part of the dialogue with regulators. It will also confer on them the status of being a member – something the banks will consider when giving credit. Whenever there are industry issues, LMFPA acts as mediator to resolve such issues. We also play a prominent role in new global standards to the local sector.
Q: What are some of the challenges faced by microfinance sector?

A: One challenge is that there are many microfinance providers in the country, and we need to instil a healthy competition among the players to protect clients and also establish some sort of standard to provide benefits to their clients. There is also the challenge of multiple borrowing and introducing best practices such as protecting clients. Another is reducing cost of operations by utilising technology.
Q: What has the LMFPA done to overcome these challenges?

A: We have introduced a code of ethics for institutions to sign and comply with, in order to promote healthy competition and acknowledge best practices and client protection. Almost all of our members have signed it.
Q: What are you immediate future plans?

A: We wish to work closely with regulators to accelerate the licensing process for microfinance companies and NGOs. We are also looking at an effective and continuous information-sharing process to make information available to the sector.
Q: Who supports you to put this conference together?

A: The CIT Foundation is taking the lead as international lead sponsor, and LOLC, one of Sri Lanka's largest and most diversified conglomerates, has partnered with us as gold sponsor.