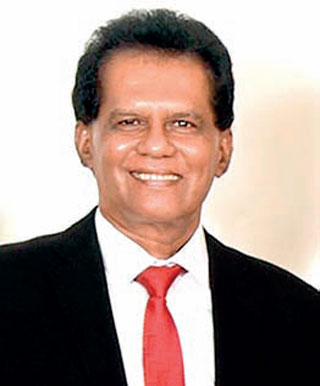 SEC Commissioner and Chairman of the Joint Committee Sunil Lankathilake
---
The project to launch a Central Counter Party (CCP) system for equities was formally launched at a Joint Securities and Exchange Commission of Sri Lanka (SEC) – Colombo Stock Exchange (CSE) meeting held at the SEC recently.

SEC Chairman Viraj Dayaratne PC, who chaired the meeting, said that he was happy that steady progress was being made on the continuous development of the market infrastructure.

He emphasised that this project should also be completed on time in the same way the 'Delivery vs Payment' (DvP) project was completed since this will significantly enhance the post-trade risk management of the equity market. He further stated that the new SEC Act has all the enabling provisions to facilitate the implementation of a CCP mechanism. The meeting was attended by SEC Commissioner Sunil Lankathilake, who is the Chairman of the Joint Committee, the SEC Director-General Chinthaka Mendis, the Director – Surveillance/Acting – Director Capital Market Development Prabash Wanigatunge and senior SEC officials.

The CSE was represented by Chairman Dumith Fernando, Directors Dilshan Wirasekera and Suren de Silva, CEO Rajeeva Bandaranaike, Chief Regulatory Officer Renuke Wijayawardhane and senior CSE officials.

Lankathilake emphasised on the importance of studying the practices adopted in other jurisdictions in facilitating a CCP mechanism in order to identify the most suited model for the Sri Lankan market. Further, he stated that as the next step, a business model for a CCP system will be finalised, based on which a project plan will be developed to ensure the successful implementation of the initiative within a specified time frame.

Mendis stated that the CCP business model should be developed in a cost-effective manner which would benefit all stakeholders in the market.

Fernando, commenting on the initiative, said that this was part of the plan agreed upon with the SEC to first introduce DvP and then establish a CCP and said that he was satisfied that both phases of the project are getting implemented as scheduled. He further stated that the business model has to be agreed upon and the inception report that was already prepared by the CCP consultants could be utilised for this purpose. Bandaranaike made a presentation to the committee covering the overall scope of the CCP implementation.

A CCP can offer significant benefits to the financial market in Sri Lanka and can be considered as part of the critical financial market infrastructure that is needed and is of national interest.